Disney Reveals The Surprise Guest Who Eats Their Magical Gingerbread Houses
Solving two problems with one creative recycling program.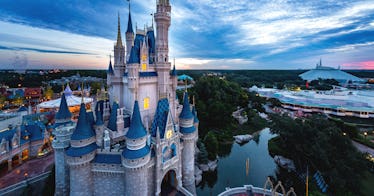 Matt Stroshane/Walt Disney World Resort / Getty Images
While it may seem silly, having fewer bees on the planet can have drastic consequences for all of us. The bee population is on a decline, and as experts focus on viable solutions and make suggestions, Disney World has its own fix to lend a hand. And it solves another problem the park has, too.
Last week, Disney shared a video on Instagram answering a question that fans have had for a long time. Not about bees, but the yearly life-sized gingerbread displays the park displays each year around the holidays (there's a connection, trust us).
These gingerbread houses are "stunning life-size storybook" gingerbread houses that aren't like any we've made at home with the kids. These culinary masterpieces are "beautifully decorated with white chocolate candy canes, edible snowflakes, and sugar poinsettias."
They're edible, but Disney World doesn't sell them, nor are guests able to break a piece off and feast. So guests have been curious about what the park does with these massive displays which are generally gone by the start of the new year. Do they throw the gingerbread away? Does the staff eat it?
It turns out the park uses these gingerbread house displays to help the declining bee population, according to a now-viral social media post. According to the company's post, dismantling the gingerbread houses starts with chefs and support staff taking the edible items off the large wood structures that hold the houses up.
"After we break down every piece of cookie, candy, and cute chocolate character, each gingerbread display is dismantled and brought to our tree farm," Disney World sous chef Rheanna says in the video. "There, local Florida bees get to feast on sweets until every bit is gone."
"This helps the declining bee population by keeping them well fed during the winter months when food sources are harder to find," she continues.
Barry Stockwell, who works as a planned work specialist within Disney's event decorating support division, explained that the idea of using their gingerbread displays at Disney World to help the bees started years ago.
"Ten years ago, when performing our annual gingerbread display cleaning, we noticed bees were very attracted to the sugar on the displays after deconstruction," Barry explained. "We decided to bring the display pieces to our Disney tree farm and lay them out in our field to give the bees a chance to collect the sugar on the wooden structures."
When the bees have been filled up on the sugar, the wooden pieces are power-washed and reused the next holiday season.
This article was originally published on