Disney Might Create A Theme Park Metaverse — But What Does That Even Mean?
Could your family trip to Disneyland happen from your living room? Here's what we know.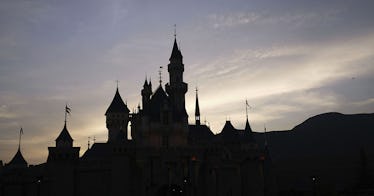 Getty
The future of theme parks might resemble Roller Coaster Tycoon combined with the metaverse, as Disney appears to be planning to try and recreate the experience of going to one of their parks online instead of in-person.
Disney Enterprises was approved for a "virtual-world simulator" patent at the end of last year. According to the US Patent Office, the patent addresses technology that would project 3D images, as well as virtual effects, onto spaces.
The basic idea would be making someone feel like they are at Disneyland or Disney World without actually having to be at the park. Plus, you would theoretically be able to customize everyone's experience to ensure they're having maximum fun. During Disney's fourth-quarter earnings call, Disney CEO Bob Chapek spoke about the company's excitement about expanding into the "three-dimensional canvas."
"Our efforts to date are merely a prologue to a time when we'll be able to connect the physical and digital worlds even more closely, allowing for storytelling without boundaries in our own Disney metaverse," Chapek said.
So what exactly does any of this mean? At this point, it's difficult to say. Right now, it's not even clear what the metaverse will actually look like, let alone what a theme park experience inside of it would be.
And Disney officials told the LA Times that the company has "no current plans" to use the simulator. They also added that Disney files for hundreds of patents each year in order to keep their finger on the trigger of any emerging technology. So for right now, this all appears to be extremely speculative, with no concrete plans in place for Disney Parks to suddenly be in the metaverse.
Still, the day might come where a family trip to Disneyland means hopping into virtually reality instead of heading to Anaheim. Will the Tea Cups or Space Mountain be as fun in the metaverse? Maybe not but at the very least, you have to assume the trip will be a hell of a lot cheaper.