Disney Once Had a Pro-Fossil Fuel Ride Starring Ellen DeGeneres and Bill Nye
The attraction ran for over 20 years, and it was sponsored by a U.S. oil giant.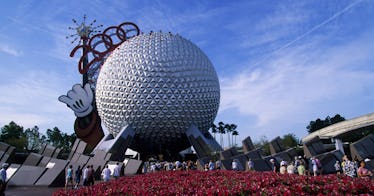 Wolfgang Kaehler/LightRocket via Getty Images
There are a lot of things from our childhood that didn't age well. That's to be expected! We live and learn, after all. But some things age worse — and far more hilariously — than others. Like, did you know, or even remember, that Disney once had a pro-fossil fuel ride at Epcot? Oh, and also that it, for some reason, starred Ellen DeGeneres and Bill Nye? Here's what you need to know.
In 1996, the (mainstream) message about fossil fuels was very different than what we hear today. This is evident in a Disney ride that spread the message that climate change isn't a big deal and that fossil fuels are actually a good thing. The ride, called Ellen's Energy Adventure, named after Ellen DeGeneres, who hosted the ride via recorded video, took riders through the glorious history of energy resources.
The ride was star-studded beyond just Ellen. It also featured Bill Nye the Science Guy, Jamie Lee Curtis, and even the late Alex Trebek. Riders learned about how energy was produced and focused heavily on fossil fuels, and sort of downplayed the whole climate change issue, which was certainly known about at the time. Oh, and, no surprise here — it was sponsored by the U.S. oil giant Exxon.
"Exxon supported [Ellen's Energy Adventure ride] although the company had known for decades how ruinous the climate crisis would be, but kept its findings secret," The Guardian reported in a retrospective on the ride. "1982, the year the ride opened, was the same year that Exxon's own scientists predicted that a spike in carbon dioxide emissions would result in the warming of the planet."
The ride was similar to "it's a small world," where parkgoers sit on vehicles that auto-drive through the attraction while learning along the way, and was probably equally as boring and weird.