Surprise! Netflix Is Destroying Disney Plus
'The Mandalorian' is the lone bright spot for Disney+, but it's still early.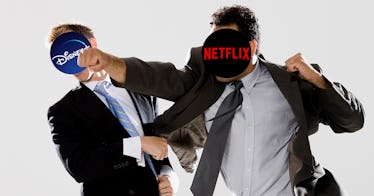 Titles freed from the Disney vault, blockbusters from the Star Wars and Marvel universes, and a slew of get-them-in-the-door deals made Disney+ seem like a serious threat to Netflix's streaming crown. But at the four-month mark, it appears that it's more of an annoyance than a real threat to the longtime streaming leader.
Streaming aggregator Reelgood looked at data from 45,000 of its users in the United States who are currently subscribed to both services. Because it provides an alternate interface to finding streaming content on both services, Reelgood was able to track which titles those users streamed. The numbers, which cover November 12 (the day Disney+ went live) to February 17 paint a disappointing picture for Disney.
Disney+ has just three of the top 10 most-streamed movies — Avengers: Endgame (7), The Avengers (9), and Star Wars Episode IV: A New Hope (10) — but the other seven titles are on Netflix, including Avengers: Infinity War, which is somehow more streamed than its much newer sequel. It did have the most-streamed TV show, The Mandalorian, but every other series in the top 10 is on Netflix, and six of those nine are Netflix originals. In fact, the next Disney+ show in the top 50 is The Simpsons at number 24.
And of the users who subscribe to both services, just about three-quarters use Netflix more, which presumably puts it at an advantage if personal streaming budgets are cut in the future, particularly if and when introductory pricing expires and/or Disney raises the monthly subscription fee.
Of course, four months might be long enough to collect a large dataset, but Disney+'s disappointing performance over that time is no where near enough evidence to prove that it's a failure. There are, in fact, plenty of reasons for optimism.
First, many of the most highly anticipated Disney+ shows have yet to hit the service. Falcon and the Winter Soldier, Loki, and the Ewan McGregor-starring Obi-Wan Kenobi series are among those titles that have yet to debut, and it would be surprising if they didn't post strong numbers.
Second, Disney might decide to loosen up its content standards. High Fidelity was moved to Hulu, where it became a hit, to keep Disney+ "safe for kids." Love, Victor suffered a similar fate. If things get dire, Disney+ could easily host a more mature show and bring in a new audience.
Third, Netflix and its other competitors still have titles that will inevitably make it to Disney+. Avengers: Infinity War is a perfect example, as it will eventually bring its audience to Disney+, taking those eyeballs away from Netflix in the process.
Of course, there are also some troubling signs for Disney, including shows that were delayed (the Obi-Wan series) or flat-out canceled (the Lizzie McGuire reboot). And it's not like Netflix is slacking off on its end, with a slew of titles hitting the service seemingly every months and a much larger collection of quality original content.
So while there's still time for Disney+ to become the streaming juggernaut executives want it to be, it's apparent that there's a long road ahead of it, a road that almost certainly goes through Los Gatos, California, where Netflix is headquartered.