Disney+ Is Down. Here's Why And When It Might Get Fixed
Users noticed this morning that the popular streaming service wasn't working. Here's what we know so far.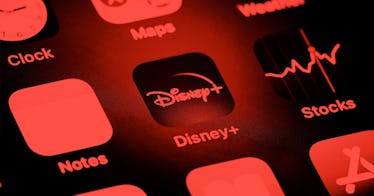 GETTY
Update: As of Tuesday evening on December 7, Disney+ appeared to be functionally normaly. Other services hosted by AWS servers may still be impacted.
Disney+ is currently experiencing outages due to major issues from Amazon's web hosting subsidiary, AWS. Here is what exactly is happening and when the streaming service might return.
Why Is Disney+ Down?
Disney+ is one of several major streaming services that are hosted by AWS and this morning, the hosting subsidiary began having widespread issues that led to Disney+ not operating for users across the country. The outage has also affected Netflix, as well as Amazon's own Ring smart home systems, Alexa speakers, and Prime music and video streaming services.
On Amazon's official status page, the company announced that they "are experiencing API and console issues in the US-EAST-1 Region." At this point, the issue remains, meaning that you may not be able to put on Frozen for the millionth time to placate your kid.
While the issue is in the US East 1 AWS region hosted in Virginia, it has been affecting the global landing page. But for that, Amazon suggests trying region-specific consoles by going to https://console.aws.amazon.com/.
When Will It Come Back?
The tough reality is at this point, we don't really know. The good news is that Amazon claims to "have identified root cause and we are actively working towards recovery. This issue is affecting the global console landing page, which is also hosted in US-EAST-1."
So basically, it'll be fixed when it's fixed. There's no clear timeline but the fact that they at least know what the issue does suggest that this won't be an indefinite issue. So you can get back to watching the latest Hawkeye episode sooner rather than later.
This article was originally published on