This $5 Million Disney Lawsuit Might Make You Think Twice About Getting a Dream Key Pass
A woman claims that Disneyland is "artificially limiting Magic Key reservations." Does she have a case?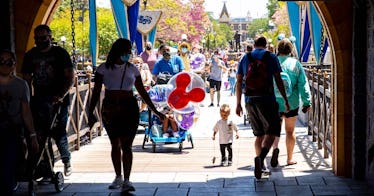 GETTY
A woman has filed a $5 million lawsuit against Disneyland, claiming that the new "Magic Key" program falsely advertises "no blockout dates" by not allowing guests to attend the Disney park on several days.
Santa Clara County resident Jenale Nielsen is behind the lawsuit, as she is one of many who purchased membership into the "Magic Key" program. Meant to replace annual passes, the $1,399 Dream Key pass was created to give high-paying visitors the opportunity to visit the Happiest Place on Earth frequently.
But when she tried to actually reserve dates to go to Disneyland, she found that several days were blocked off. Despite being a Dream Key pass holder, Nielsen was forced to purchase a single-day ticket for the day she wanted to attend.
"Ms. Nielsen reasonably believed and relied upon Disney's advertisement and promise to mean that, if Disney had capacity at its Anaheim parks, Ms. Nielsen and her fellow Dream Key pass holders would be allowed to make reservations and visit the parks," the lawsuit contends. She also wants to include the 3,600 other people who are Dream Key holders.
Disneyland is pushing back against the lawsuit, claiming that there is simply a limit on the number of Dream Key visitors that can visit on any given day. On the Disneyland website, there is a no guarantee disclaimer, regardless of purchase.
"We have been clear about the terms of the Magic Key product and we know that many of our guests are enjoying the experiences these passes provide." Disney spokesperson Liz Jaeger told the Los Angeles Times, "We will vigorously defend our position as the case proceeds."
Nielsen argues that the amusement park is "artificially limiting Magic Key reservations and the number of key holders that can visit on any given day." The lawsuit was moved to Federal Court on December 15 and it will be interesting to see if Nielsen is able to win her grievance against the powerhouse that is Disney.
This article was originally published on