Watch This Baby Groot Prototype Boogey Down At Disneyland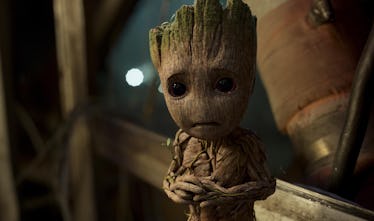 Disney Marvel
Groot is stealing the show at Disneyland! The folks running the Anaheim, California park are testing a new feature that will allow Guardians of the Galaxy star, Groot, to shine center stage in a real live dance-off.
According to Boing Boing, Disney Imagineers have created an animatronic Baby Groot that walks and dances — free-range style. "It's currently being tested a limited-access short presentation called Guardians of the Galaxy Awesome Dance Off at Disneyland," the publication explains.
On Twitter, Disney expert, Scott Gustin, announced the trial test. "Disneyland Resort is conducting play tests of an animatronic Baby Groot, a Disneyland official confirmed," he wrote. "Select park guests are being invited to a short presentation."
Gustin says the team behind the baby Groot animatronic has been in the works for a while. "The tech from Walt Disney Imagineering Research & Development was first revealed as 'Project Kiwi' in 2021," he tweeted.
On YouTube, Walt Disney Imagineering Research & Development team shared a video discussing their new test of the animatronic Groot, which they say is way better than a CGI version.
"Walt Disney Imagineering Research & Development is developing a small-scale, free-roaming robotic actor that can take on the role of our similarly-sized Disney characters," Disney explains in the caption of their YouTube video featuring their animatronic Groot.
"Its tightly integrated design provides over 50 degrees of freedom in a compact platform that can walk, gesture, and emote in style," they add.
In the YouTube video, Joel Peavy, Executive R&D Imaginer, Walt Disney Imagineering Research and Development, said the team is excited about telling new stories with animatronics. "We're a storytelling company, so we want to bring these characters to life in the most authentic way possible," Peavy said. "For us, that means a walking, robotic actor… that can move, gesture, and emote in style."
Right now, though, Disney says there aren't any "immediate plans" to use these next-level animatronics at Disney-themed parks other than the Groot prototype, which "is being used to test unique traits, gaits, and capabilities." This makes a Groot sighting a real treat — so be on the lookout!