Disney Goers Are Pissed About The New Genie+ System. Here's Why
The new system was launched five months ago and has received many complaints, reports say.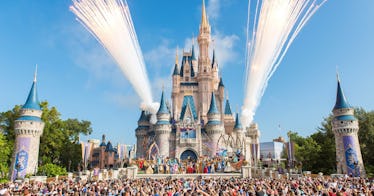 Jacqueline Nell/Disneyland Resort via Getty Images
Disney fans were weary when it was announced that the FastPass system was going to end, making way for a new park visiting app called Genie+.
The original FastPass had been in place for 22-years, was complimentary, and was, well, great. For parents, it helped them plan out their Disney day — parents could make ride reservations and reservations to other attractions and bypass lines for free so they didn't have to wait as long. After Disney ditched FastPass, they replaced it with Genie+, a similar experience to FastPass and an app, except it costs more money. For example, guests can pay money to skip lines for certain rides and check out what rides have shorter lines than others. However, criticism has been flooding in only five months after the Genie+ was implemented. Here's what you need to know.
What is Disney's Genie+ system?
The Genie+ system is an app that was introduced in October 2021. Through the app, park visitors receive attraction and dining recommendations based on what they've said they're interested in. The app also tells visitors the best time to go to the ride or restaurant based on how long the line will likely be. New offers are pinged to the app on your phone throughout your visit.
"Once you log into your Disney account, these services magically make your theme park visit easier and more fun," the website explains. "It's like having your own personal genie in the palm of your hand. Whether you're a first-timer or a seasoned pro, Disney Genie can help you get the most out of your visit to Walt Disney World Resort."
All sounds well and good – on paper – because according to the reviews from people who have used the app, that's not how it works.
It's meant to replace the FastPass and is supposed to allow guests to reduce the time spent in lines and give a more tailored and unique visit. The app lets you pay extra to skip long lines, but unlike the FastPass, that function (now called Lightning Lane) costs money — up to $240 a day for a family of four. The disappearance of the affordable hack that is FastPass was already a huge blow, considering most people who want to go to Disney can't afford it. Add that to the fact that Disneyland tickets increased in price last year and you have some unhappy campers.
Why are people mad about the new Genie+ system?
There are usually hiccups when a new service is offered but, according to Bloomberg, the app is giving guests error after error. Complaints also include that the Genie+ app makes lines longer for everything else in the park, too.
"The service has drawn objections on social media since its inception, with more than 100,000 people signing a petition seeking to oust Disney Chief Executive Officer Bob Chapek within weeks of the service's launch in October 2021," the site reports.
The issues are widespread and include the increase in prices that aren't always clear, challenges booking Lightning Lane reservations, and complaints that the app isn't user-friendly. Bloomberg reports that the "verdict from vocal parkgoers so far is that the service is too expensive, creates longer wait times for nonusers, is riddled with technical issues, and requires users to be glued to their phones to reap any benefits." After all, who wants to go to a theme park to be staring at their phone the whole time?
People who spoke to the publication said they are staring at their phone trying to get those reservations to skip the lines and hit rides more quickly — a key perk of Genie+ — but that they sell out within minutes — and that they're stressed out and looking at their phone when they do so. Technical issues, an unfriendly app, a luck-based system, and more hidden costs are making Disney annoying for parents, one source says.
One travel agent speaking to the publication put it succinctly: "Disney has been creatively nickel-and-diming their loyal customers for many years. But for most people I talk to, Genie+ has been the final straw."