Disney Parks Will Require Masks Again, But Not Everywhere
The decision stems from an increase in COVID cases and new guidelines released by the CDC.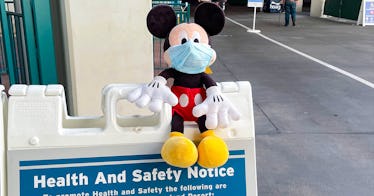 GETTY
If you're planning a trip to Disney World or Disneyland over the next while, make sure you pack masks for everyone. With the Centers for Disease Control and Prevention (CDC) releasing new guidelines on mask-wearing and virus mitigation strategies, Disney announced it will be reinstating the rule requiring guests to wear masks when indoors, regardless of whether they're fully vaccinated or not.
According to alerts on both the Disneyworld Resort and Disneyland websites, under the new guidelines, as of June 30, 2021, Disney is reverting back to its old mask policy, requiring all guests 2 years of age and older to wear a face-covering when in an enclosed attraction, transportation vehicle, and when indoors.
Currently, wearing a face-covering while outdoors in a Disney park is optional.
The new guidelines for indoor mask-wearing at Disney fall in line with the latest recommendations from the CDC, which were revisited because of the nationwide uptick in COVID-19 cases, largely due to the highly transmissible Delta variant.
"In rare occasions, some vaccinated people infected with the Delta variant after vaccination may be contagious and spread the virus to others," CDC Director Rochelle Walensky said in a press conference. "This new science is worrisome and unfortunately warrants an update to our recommendations."
On top of the new mask mandates, Disney is also requiring all on-site employees to be fully vaccinated to continue employment, according to Vulture.
The Walt Disney Company announced that their employees have "60 days" to get fully immunized if they're not already. And this new mandate is also in response to the surging cases, particularly in California and Florida.
According to data from the CDC, Florida reported its highest number of new coronavirus cases in a single day this past weekend, totaling 21,683 cases — since the pandemic started. And Disney isn't the only company that has announced mandate changes in response to the growing concern.
Walmart Inc. announced it will now require all Walmart and Sam's Club employees to wear masks inside. This includes stores, fulfillment centers, clubs, distribution centers, and more. The company is also requiring certain leveled employees to get vaccinated.
"We have made the decision to require all market, regional and divisional associates who work in multiple facilities and all campus office associates to be vaccinated by Oct. 4, unless they have an approved exception," the company said in a release. "This includes all new hires."
The CDC previously said that the need to reinstate mask mandates "is not a welcome piece of news" but, adding this "could have been avoided with higher vaccination coverage."