Disney Employees Won't Back Down to "Don't Say Gay" BS
Disney employees walked out of their offices on March 22nd, 2022 after prolonged uproar over the company's inaction in the face of Florida's "Don't Say Gay" bill.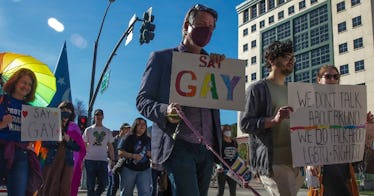 On March 22nd, 2022, Disney employees staged a massive walkout to protest the entertainment conglomerate and CEO Bob Chapek's hesitation in denouncing Florida's "Don't Say Gay" bill as well as the company's ongoing donations to Florida lawmakers who support the discriminatory legislation.
The protest — in which about 70 employees walked out in California and dozens of others did the same across the United States, many also virtually by walking away from their computers, follows an at-first private dispute within the company that turned public — and an onslaught of criticism toward the company about their inaction to fight for the rights of LGBTQIA+ kids in the state of Florida and their donations to anti-LGBTQIA+ politicians.
Here is what to know about the bill in question, the criticisms facing Disney, and why employees walked out.
What Is the "Don't Say Gay" Bill?
Formally known as The Parental Rights in Education bill, BH 1557, the bill, would ban all discussion of sexual orientation and gender identity in grades K through three and would severely limit discussions in higher grades. On the pretext of allowing parents to have more control over their children's education, the bill could effectively criminalize even the mention of orientation and gender in classrooms. This could look like a student reading a test question that uses "they" pronouns or a teacher writing a test question that mentions something as innocuous as "Susie has two moms."
Parents could sue school districts if they believe that the law has been violated and the costs would be on the school districts to handle the disputes. There has even been speculation among legal experts that the vaguery of the bill could lead to students with gay parents being discouraged from talking about their parents in class.
What Does This Have to Do With Disney?
As one of Florida's largest employers, Disney has historically contributed equally to the campaigns of both Republican and Democratic lawmakers in the state. After the "Don't Say Gay" bill passed through both the house and the Senate, Disney employees demanded that the conglomerate denounce the legislation and cease contributions to lawmakers who supported it.to the bill in early March.On March 9th, "The Human Rights Campaign will not accept this money from Disney until we see them build on their public commitment and work with LGBTQ+ advocates to ensure that dangerous proposals, like Florida's Don't Say Gay or Trans bill, don't become dangerous laws, and if they do, to work to get them off the books. Businesses… have a major impact in the fight for LGBTQ+ rights, from marriage equality to the defeat of House Bill 2 in North Carolina and beyond," said HRC interim president
Joni Madison in a statement. "While Disney took a regrettable stance by choosing to stay silent amid political attacks against LGBTQ+ families in Florida — including hardworking families employed by Disney — today they took a step in the right direction. But it was merely the first step."After CEO Bob Chapek's memo about creating inclusive content, and an internal meeting was publicized where Chapek told employees that Governor DeSantis has assured him the bill wouldn't be used to hurt kids, employees of Pixar, a subsidiary of Disney, alleged that Disney actively censors same-sex scenes in their films. A statement published on March 9th signed by "LGBTQIA+ employees of Pixar, and their allies" first brought the allegations to light. "We at Pixar have personally witnessed beautiful stories, full of diverse characters, come back from Disney corporate reviews shaved down to crumbs of what they once were. Nearly every moment of overtly gay affection is cut at Disney's behest, regardless of when there is a protest from both the creative teams and executive leadership at Pixar," the group alleged. "Even if creating LGBTQIA+ content was the answer to fixing the discriminatory legislation in the world, we are being barred from creating it."Though Disney did not respond directly to the allegations, by March 11th, Chapek did announce in a company-wide letter that Disney would cease donations to all lawmakers who supported the "Don't Say Gay" bill but still did not formally denounce the bill. He added that the company would begin to support "advocacy groups to combat similar legislation in other states" and that employees would "hear more about our progress in the coming weeks."
Why Did Disney Employees Walkout?
On Monday, March 21st, before the walkout, Disney held a company-wide meeting on "anti-LGBTQ+ legislation and Disney's response to it. "We know how important this issue is for our LGBTQ+ employees, their families and allies," Disney said in a statement to CNN.
On Tuesday, March 22nd, many dozen in-person employees and an unknown number of remote employees at both Florida and California Disney properties and subsidiaries like Marvel, Pixar, and Lucasfilm staged a walkout to protest Chapek's inaction. Amid the walkout, Disney and its subsidiaries issued a public statement denouncing the bill. Tweets from Disney+, Hulu, ESPN, and a number of other Disney-owned properties condemned the discriminatory legislation and spoke of solidarity with the LGBTQ+ community.
The protest organizer's website lists the group's demands,Disney responded to the walkouts to The New York Times: "We respect our colleagues' right to express their views, and we pledge our ongoing support of the L.G.B.T.Q.+ community in the fight for equal rights."