Disney Cruises Just Got Tough on Vaccine Requirements For Kids
The new vaccine policy will begin at the start of 2022.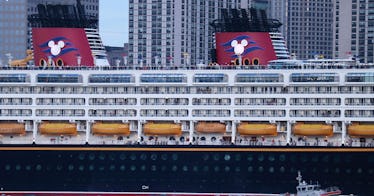 GETTY
If you were planning to take a Disney Cruise with your family to start the new year, you're going to need to make sure your eligible kids are vaccinated to climb onboard. That's because, starting on January 13, Disney Cruise Line will be implementing a new immunization policy that requires all children over the age of 5 to be fully vaccinated against the COVID-19 now that they qualify for the Pfizer vaccine.
Currently, anyone over the age of 12 must be vaccinated to be allowed on a Disney Cruise, while kids ages 5-11 must take a pre-departure coronavirus test. But with the Pfizer pediatric vaccine officially receiving approval for kids between the ages of 5-11, the policy is now being updated to ensure that all eligible kids are a part of their vaccine policy. The vaccine requirements apply to both domestic and international cruises.
The CDC recently extended an order that requires all cruises in the United States to have at least 95 percent of passengers vaccinated, which has limited the number of children that were allowed on board. The order will run through January 15 and after that, the CDC said in a statement that it "intends to transition to a voluntary program."
It is not yet clear what exactly that transition will look like but Aimee Treffiletti, a captain in the U.S. Public Health Service and lead for the CDC's maritime unit, said that more information will be revealed in the near future. She also said that high vaccination rates "should continue to be an essential part of the public health resources that we turn to for cruising."
Other cruise lines are expected to follow Disney Cruise Line's new policy, as Royal Caribbean CEO Richard Fain suggested that they would be taking a similar approach to the new vaccine eligibility for children.
"I think we're moving in the direction where every cruise will have 100 percent of the crew vaccinated and 95 or more percent of the guests," Fain explained last week.
This article was originally published on