There's a 'Secret Door' at Disney World as Long as You have 30K
For the price of a Dodge Challenger, you can join the most exclusive theme park club on earth.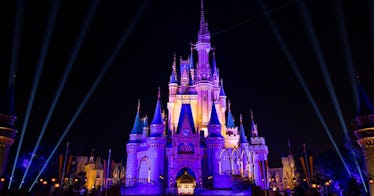 GETTY
Want to make the most of your Disney theme park experience? Forget about Lightning Lane or park-hopping because none of those luxuries compare to the VIP treatment you get when you become a Club 33 member. But be warned, to get through this secret door, membership costs you a whole lot of dough, even by Disney standards.
What Is the Secret Disney World Door?
If you are at Disneyland or Disney World, you may stumble upon a seemingly normal door that says "33" and not even realize you've stumbled upon one of the most exclusive clubs on earth. Well, kind of. That door is actually just a prop, while the real entrance is around the corner and requires verification for you to enter Club 33.
What Makes Club 33 So Special?
Originally started at Disneyland, Club 33 is a secret club at four of the Disney theme parks (Disneyland, Disney World, Disneyland Shang Hai, and Disneyland Hong Kong) that give members a chance to enjoy a more distinguished time than chomping on churros while waiting in line for Splash Mountain.
Plus, there are tons of perks. You get annual passes that are valid 365 days a year, 50 one-day park hopper tickets, 5 daylong VIP guided tours, and access to exclusive concierge events. There's also a chance you could cross paths with celebrities, as the likes of Tom Hanks and Rebel Wilson are reportedly members.
How Do I Join?
Pretty much anyone can become a member but heads up, you are going to need about $30,000, as that is the membership fee to join Club 33. And that's not the end of it, as you reportedly need to pay around $15,000 annually to remain a member. If that's understandably a bit out of your price range, there's no shame in hanging out in the general park area with the rest of us.
Is It Still a Secret?
Not really. While Club 33 used to be one of those urban myths you'd hear about but had no real way to verify, in the digital age, it's more of an open secret. It's even discussed on Disney's website.
This article was originally published on