Disney+ Has Changed the Dryer Scene in 'Lilo and Stitch' and People Are Losing It
This isn't the first time that Disney has made some changes to outdated movies.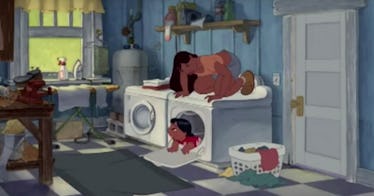 Disney
The version of Lilo and Stitch that's streaming on Disney+ has changed in a major way, apparently. The editors at Disney decided to secretly alter a scene — the one in which Lilo is hiding from Nani in a dryer — and changed the dryer into a regular cabinet. But why did the editors change the scene?
The scene appears to have been changed because the big wigs behind Disney understandably likely didn't want to encourage any little kids to get into dryers, which hurts over 2,000 kids a year and kills a few as well. It's true that doing so is dangerous, and a number of young toddlers have died by crawling into dryers which then accidentally turn on or lock behind them.
This isn't the first time that Disney or their subsidiaries scrubbed unsavory, outdated scenes. Recently, Pixar, a subsidiary of Disney, quietly scrubbed a very outdated scene from the Toy Story 2 blooper reel. (The blooper reel, obviously a parody of the ones that exist in live-action films, is a famous Toy Story trope.) The film, which came out more than 20 years ago, featured a scene that shows Stinky Pete (voiced by Kelsey Grammer) speaking to two Barbie dolls. He says, "So you two are absolutely identical? You know I'm sure I can get you a part in Toy Story 3," before he notices the camera on him and shows the two Barbie dolls "out" like a casting director.
The scene — which clearly doesn't hold up today — was, indeed, rightfully removed. Especially considering the fact that John Lasseter, the former chief creative officer at Walt Disney Animation Studios and Pixar Studios and director of several Toy Story's, has been accused of sexual harassment in the workplace.
But it is interesting that Disney decided to remove and edit that scene of the dryer rather than, say, edit out the racism in Peter Pan's "Indian Tribe" and a character whose name is a slur, or the other plenty of instances of racism in Disney's movies, like Dumbo or Mary Poppins. While disclaimers have been added to those films to warn viewers about 'outdated cultural depictions,' one wonders what the standards for removal and editing are for Disney.
This article was originally published on