With the Disney Bedtime Hotline, Your Kids Can Get Free Messages From Mickey Mouse
Kids can get tucked-in by their favorite Disney, Star Wars and Marvel characters, but only for a few weeks.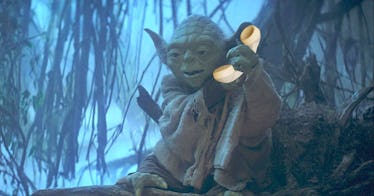 Lucasfilm
Do you want your kid dreaming about Yoda? How about a quick chat with Elsa and Anna from Frozen? The popular Disney Bedtime hotline is back! Last year, Disney let kids talk to some classic characters like Minnie, Donald, and Goofy, but now, the entire Disney and Marvel empire has invaded sleepy-time. Right now, parents can call 1-877-MICKEY or 1-877-764-2539 and have their kids get a special goodnight message from one of six Disney, Pixar, Marvel and Star Wars characters.
Here's what you do.
1.Dial: 1-877-764-2539
2. Press "2" to forgo the text message option.
3. Then select from one of six characters. Here are the options
Press "1" for Mickey Mouse
Press "2" for Woody
Press "3" for Princess Jasmine
Press "4" for Anna and Elsa
Press "5" for Spider-Man
All of the messages are pretty sweet, but the Yoda one is decidedly the most metaphysical. He mentions that the Force is "like a blanket" and that in their dreams, kids will see the future, meet old and new friends, and, yeah, Yoda will be there waiting for you in your dreams, too. We can't confirm Frank Oz did the voice for this bedtime Yoda, but it's very clear that's not Tom Holland doing Spider-Man, though, if you're a little kid, it's close enough?
Right now, it looks like the new line-up of free Disney Bedtime Hotline characters will only last until September 30, 2019! More details at the Disney Sleep Store here.
This article was originally published on