Just A Spoonful Of Olive Oil (A Day) Could Help Stave Off Fatal Dementia
Add this to your list of superfoods.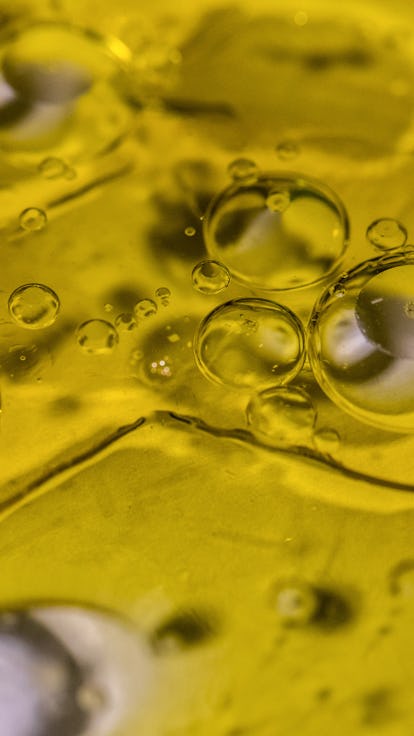 Bloomberg Creative/Bloomberg Creative Photos/Getty Images
Small lifestyle tweaks can bring sizable returns as we age and the years begin to catch up with us. Of course, frequent exercise and a healthy diet, avoiding smoking and drinking to excess, and maintaining a healthy sleep routine are surefire ways to live a longer and healthier life. But if you're just starting on your forever health and fitness journey, baby steps may feel more manageable.
If that's you, then news out of Nutrition 2023, the annual conference of the American Society of Nutritionists, should feel like good news. A team of researchers from Harvard T.H. Chan School of Public Health led by registered dietitian Dr. Anne-Julie Tessier found that simply subbing olive oil for animal fat like lard or ultra-processed oils like canola might boost brain health and stave off dementia disorders like Alzheimer's and other debilitating age-related cognitive impairments.
Dr. Tessier's team analyzed questionnaires and death records from more than 90,000 people collected over three decades. During that time, close to 5,000 participants died from dementia.
The team found that those who ingested more than half a tablespoon of olive oil per day were 28% less likely to die from dementia than other participants. And that swapping out 5 grams a day of margarine and mayonnaise with "an equivalent amount of olive oil was associated with 5-12% lower risk of fatal dementia. Substitutions of other vegetable oils or butter were not significant," the study found.
"Our study reinforces dietary guidelines recommending vegetable oils such as olive oil and suggests that these recommendations not only support heart health but potentially brain health, as well," Tessier explained in a statement. "Opting for olive oil, a natural product, instead of fats such as margarine and commercial mayonnaise is a safe choice and may reduce the risk of fatal dementia."
Though previous research has shown that people who use olive oil are likely to have healthier diets overall than those who use other fats, Tessier explained that this study excluded other dietary aspects and focused solely on the presence or absence and the volume of olive oil ingested.
Tessier cautions that this study is observational in nature and only determines correlation, not causation. More research is needed to determine the exact mechanism, though Tessier explained that olive oil does contain potentially brain-boosting chemicals. "Some antioxidant compounds in olive oil can cross the blood-brain barrier, potentially having a direct effect on the brain," Tessier explained. "It is also possible that olive oil has an indirect effect on brain health by benefiting cardiovascular health."
This study adds to existing research exploring the benefits of olive oil and a Meditarranean-style diet which has proven cardiovascular, endocrine, fertility, skeletal, and cognitive benefits and also reduces the likelihood of developing certain cancers.