House Democrats Want to Send You Hundreds of Dollars a Month to Afford Gas
Gas prices got you down? There's a plan that could fix it.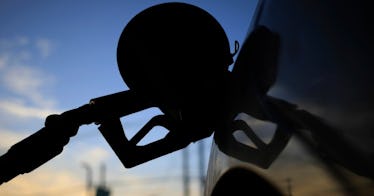 Bloomberg Creative / Getty Images
Soaring gas prices are causing pain at the pumps for American families. But House Democrats have a plan to ease the burden and help Americans stay solvent despite record-high fuel prices. Democratic Reps. Mike Thompson of California, Lauren Underwood of Illinois, and John Larson of Connecticut introduced a bill that would provide monthly cash payments to help alleviate the burden of exorbitant gas prices. But how would the plan work, who would qualify, and does it have any chance of actually becoming law? Here's what to know.
Gas prices have been on the rise for over a year due to the effects of the Covid pandemic on international supply and demand. OPEC slowed down on gas production during the early days of the pandemic due to dramatically decreased demand and was slow to increase production once demand increased, leading to moderate price increases throughout 2021. The significant increase came after the U.S. announced Russian sanctions in answer to Russian President Vladimir Putin's invasion of Ukraine, and gas prices increased 20% seemingly overnight. According to AAA, the national average price for one gallon of gas is currently $4.24. Obviously, there are many places where gas costs far more than that, and many where it costs less.
Who Would Qualify For The Gas Credit?
Like the Child Tax Credit and the stimulus checks, direct cash payments that went out to Americans and American families, there are income limits as to who would benefit from the plan. Income thresholds for the monthly payments would be similar to those used to determine eligibility for last year's final pandemic stimulus check—unmarried workers earning less than $75,000 would receive $100 per month, while those with joint income of less than 150,000 would receive $200 per month.
Both groups would also receive an additional $100 per month per dependent. This is an interesting point — as many dependents, a significant portion of whom are children under 16, can't drive. The cash would be doled out only when the national gas average is above 4 dollars per gallon — per the earlier note, it's currently $4.24.
It's a lot like a Child Tax Credit… but it's for gas, and only when gas is really, really expensive.
Could it Pass?
The Democrats' cash for gas plan faces an uphill battle for approval. As per usual, Republicans and moderate Democrats (like Senators Manchin and Sinema, who many see as being responsible for the sinking of the Child Tax Credit extension) are generally wary of giving people straight-up cash, even if the research shows it helps alleviate poverty and is associated with a number of benefits mental and physical for kids and their parents.
There is no question that the monthly payments would be a welcome injection of cash to many U.S. families. Record-breaking inflation, a volatile housing market, and now sky-high prices at the pump are leaving many people strapped for cash, with some parents even skipping meals themselves to ensure their children had enough to eat each day.
Other gas relief bills discussed on Capitol Hill include a suspension of the gas tax and an advance tax credit similar to the Child Tax Credit families received in 2021. The credit would be funded by a tax on oil company profits after meeting a certain threshold. Neither plan has gained much traction. Senate Energy and Natural Resources Committee Chairman, West Virginia Democrat Joe Manchin, is not expected to pass any of the three prospective bills. According to The Hill, Manchin is more inclined to encourage increased gas production, which would result in a drop in gas prices over time, saying, "I just want people to produce the products we need to get us through this crisis."