DeMar DeRozan's 9-Year-Old Daughter Totally Clinched A Crucial Bulls Victory
A 9-year-old sitting courtside might have been the lucky charm that helped the Bulls land April 12th's victory against the Toronto Raptors.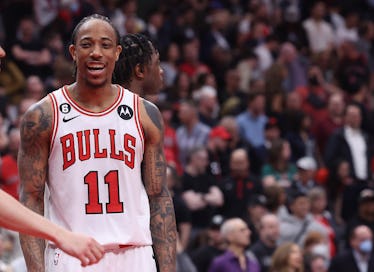 Steve Russell/Toronto Star/Getty Images
The NBA playoffs are days away, and the Chicago Bulls are closer to making the cut than ever. And while the talent on the court on April 12th ultimately led to a Bulls victory over the Toronto Raptors, one of the most important players on the team might not have even been on the court — or a player at all.
Instead, during Wednesday night's play-in tournament game between the Toronto Raptors and the Chicago Bulls, 9-year-old Diar DeMazon sitting courtside might have been the lucky charm that helped the Bulls land the win.
Invested in the game and wanting her dad, Chicago guard DeMar DeRozan, to win, Diar put on her best scream and shout every time the Raptors had to shoot a free throw. Whether her strategy worked, or the Raptors simply had a case of the yips is hard to say, but one thing is clear. According to The Bleacher Report, Toronto missed half of their 36 free throws during that game, losing out on countless opportunities to get points up on the board.
How badly did the Raptors biff their free throws?
"The Raptors entered this game making 78.4 percent of their free throws," the site notes. "They also shot below 60 percent just once in 82 regular-season games." Ultimately, the Bulls were able to come back and win despite being down by 19 points at one point in the game.
Of course, it wasn't just the players that noticed Diar's strategy. Her screams were heard by the broadcast team, who mentioned her enthusiasm on air. And after the game, reporters asked Derozan about his daughter's distraction strategy.
"My daughter called me the other day when she was getting out of school, and she just said, 'Dad, can I come to the Toronto game?'" DeRozan shared. "I remember her going to all the Toronto games when she was a kid, and I almost said no because she's in school back home."
"But she kept asking," he continued. "She was just adamant about coming to support, and I said, 'All right, you can miss one day of school and come to a game.' I'm glad I did. I owe her some money for sure."
However, it sounds like the Bulls can't rely on Diar to help win every game. When asked if his daughter would be attending the next game — the Bulls will play against the Miami Heat on April 14 — DeRozan told reporters that she has to go back to school, so she won't be there. Fair enough!