DC Mayor Orders City Workers to Paint Black Lives Matter On White House Street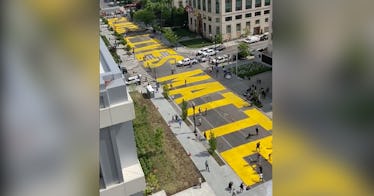 Washington, D.C. mayor Muriel Bowser contacted city workers to paint a massive "Black Lives Matter" mural on the street leading up to the White House. The phrase "Black Lives Matter" heads southward right to the White House and the letters span the entire width of the street. The work, which began early this morning, reveals a massive, two-blocks-long street painting. Mayor Bowser also took the step of deeming the intersection of 16th street right in front of the White House as "Black Lives Matter Plaza," and had city workers put up the street sign today.
Mayor Bowser didn't just stop at pomp and circumstance, however. Amid being hotly criticized for the way the D.C. police have handled the protests that have happened every night in the city for over a week, Bowser requested President Trump to withdraw all federal law enforcement and military police across the city and specifically raised concern about the amount of federal law enforcement officers patrolling the streets of D.C. without any identifying insignia, which is required in the city.
The move to paint the mural also comes after the President staged a photo-op at St. John's Church in D.C., using tear gas and rubber bullets to break up a peaceful protest at Lafayette park so he could do so.
Protests will continue in the city over the next few weeks and across the country.