Daylight Savings, Parent's Biggest Nightmare, May Be Over Forever
Are you tired of falling back — and springing forward? A new bill could make this next jump forward on March 14th our last.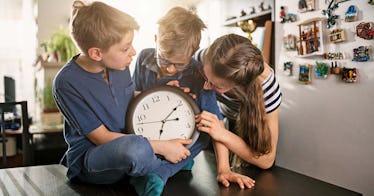 Daylight Savings is almost here, as Americans will move their clocks up an hour this Sunday, March 14th to "spring forward" and give us all an extra hour before the sun says goodbye. For parents, jumping forward in time (or backward) wreaks havoc on bedtime schedules and requires wrangling and frustrating bedtime routines.
For everyone else, springing forward just gives us an extra hour of that sweet, sweet daylight, but can still be a rough adjustment on our bodies and minds. And if you're one of the many people who will immediately start counting back the days to when we "fall back" again, a new bill might bring you joy.
If a group of bipartisan Senators gets their way, this upcoming Daylight Savings could spark a permanent change, as they have proposed a bill that would keep Daylight Savings year-round, eliminating time "falling back" an hour in November.
The "Sunshine Protection Act of 2021" was introduced on Tuesday by several senators from both parties, including Florida Senator Marco Rubio and Massachusetts Senator Ed Markey. Several states have already passed bills to implement Daylight Savings as a permanent measure but according to a memo from Rubio, a federal statute is required to enact the change.
According to the memo, Daylight Savings Time was first introduced in the United States over a century ago, "following Germany's 1916 effort to conserve fuel during World War I." Daylight Savings Time was originally only six months of the year but in 2005, Congress made it eight months instead. And now, it could be America's standard time year-round.
Along with giving us a delayed sunset, Daylight Savings Time has been shown to have a number of societal benefits, including reducing crime, childhood obesity, and seasonal depression, as well as improving the economy and agriculture. Basically, there is absolutely no reason not to have Daylight Savings all the time.
"The call to end the antiquated practice of clock changing is gaining momentum throughout the nation," Rubio said in a press release. "I'm proud to reintroduce this bipartisan bill to make Daylight Saving Time permanent, and give our nation's families more stability throughout the year."