Dave Grohl Dunks On Nirvana Baby Lawsuit: "He's Got a Nevermind Tattoo"
The former Nirvana drummer dished out a hilariously savage response to the child exploitation lawsuit.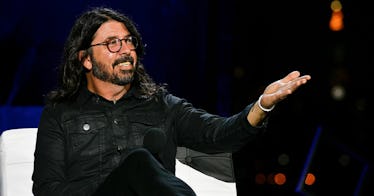 GETTY
Dave Grohl has mostly stayed silent in response to the child exploitation lawsuit filed by Spencer Elden, the baby in the pool featured on the iconic Nevermind cover. But the former Nirvana drummer could not resist dishing out one extremely savage line when he was discussing the lawsuit in a recent interview.
Vulture's Craig Jenkins asked Grohl about his stance on Elden filing a lawsuit that claims the photo amounts to child pornography and, at first, Grohl basically avoided getting into it while making it clear he disagrees with it.
"I don't know that I can speak on it because I haven't spent too much time thinking about it," Grohl explained. "I feel the same way most people do in that I have to disagree. That's all I'll say."
Jenkins then noted that Elden has recreated the photo several times in his life since and that caused Grohl to offer up a hilarious quip about Elden's sudden change of heart.
"Listen, he's got a Nevermind tattoo," Grohl said. "I don't."
Elden filed the lawsuit against the surviving members of the band and Kurt Cobain's estate, claiming that the group violated child pornography laws and that his guardians never signed a proper release. His lawsuit states that he has suffered "lifelong damages" because he "was forced to engage in commercial sexual acts while under the age of 18 years old." Spencer is seeking $150,000 from each of the defendants, which includes Dave Grohl, Krist Novoselic, Courtney Love, the executor of Cobain's estate, photographer Kirk Weddle, and several others.
The general public consensus seems to side with Grohl, with many believing that this is an attempt by Elden to cash in with Nevermind's 30th anniversary re-release set for next month. Grohl has said that it is possible the cover will be changed, almost certainly in response to the lawsuit but no official announcements have been made.