Lucky California Whale-Watchers Witnessed An Ultra-Rare Whale Birth
Passengers aboard a whale-watching safari experienced a "once-in-a-lifetime" opportunity to watch a whale give birth.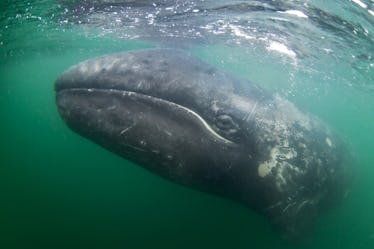 Shutterstock
Passengers aboard a whale-watching safari experienced a "once-in-a-lifetime" opportunity, adding to their already cool experience of seeing whales in the wild. While touring in a boat just off the coast of Dana Point, California, the passengers spotted a grey whale. At first glance, it appeared the whale was in danger or migrating, but upon closer look, it turned out the whale was giving birth.
"As the boat slowly approached the animal, our crew noticed it was behaving sporadically," the company shared along with a video on YouTube. "Passengers and crew saw something orange and red colored in the water that they thought might have been kelp. For a minute, many of us thought it may be a shark or predatory event."
Turns out that's not what they were witnessing. "Instead of the end of life, it was the beginning of a new one!"
The passengers and crew saw a calf come to the surface. "After surfacing, the newborn calf began learning how to swim and bonding with its mother. The female even brought the calf over to the boats as if to show off her offspring and say hello."
Witnessing the whale give birth was memorable for the people who witnessed it, and experts aren't sure if it's been seen in the wild before.
"I so wish that I was there," Alisa Schulman-Janiger, who runs the Los Angeles chapter of the American Cetacean Society's Gray Whale Census and Behavior Project, told NPR.
"The fact that you can see the blood pool means the calf must have just come out," Schulman-Janiger said. "That isn't something that is seen very often or documented often. In fact, I don't know if there's any other video footage of something like that."
She continued: "It's extraordinarily rare and really, really special for people to be able to share in those first few moments of a young whale's life. A whale could get to be 50, 60, 80 years old. And this is just the beginning of that calf life."
To watch the video, check it out on YouTube.