New Dad's TikTok Normalizing Postpartum Diapers Goes Viral
And it's actually really sweet.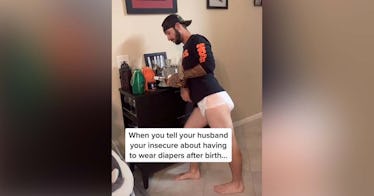 The reality of becoming a parent really hits as the pregnancy progresses: from the 9-month belly to total body changes, and the unknown about postpartum, it can be a lot. But honest, unflinching support makes it easier for new parents. And one dad did just that in a viral TikTok where showed his wife some funny, and touching, support after she confided she was nervous about postpartum diapers. Here's what happened.
Patrick Chase Champi is a dad who's expecting a baby girl with his wife. He regularly shares funny videos about his wife's pregnancy and their anticipation of welcoming a baby into the world. The videos are sweet, and it's very clear that he's excited to be a daddy. And that he's there for his wife, no matter what.
On March 22, Patrick posted a video from his wife's perspective. In the video, the caption on the screen says, " When you tell your husband your [sic] insecure about having to wear diapers after birth…"
For anyone who doesn't know, after birth, whether it's a C-section or vaginal birth, there's a lot of blood. For some new moms, this bleeding is like a super-period. Between that and healing and the uterus not having shrunk to its typical size yet, disposable diapers provide the best protection. They're the most comfortable, and new moms don't have to worry about bleeding out of them… but they're ugly.
It's a very vulnerable position to be in. Being a new mom means that you go through labor, birth, and post-partum recovery in front of your partners in graphic detail. It's not always pretty, but it is a necessary part of creating new life. And Patrick was eager to show his wife that she can be comfortable around him. He put her insecurity at ease by rocking the diapers first.
With mom-to-be holding the camera, Patrick struts out of the bedroom and strikes a pose … wearing a postpartum diaper. Pours himself a glass of wine, wearing the diaper. Serves dinner in the kitchen, sans shirt now, still wearing that diaper, and is sure to exude confidence while doing so. And finishes it all off with a twerk session on the couch.
It is a hilarious video, and TikTok clearly loved it. It's currently got 3 million views and counting. But it's also really sweet because Patrick made it very clear to his wife and everyone who watched that wearing postpartum diapers is normal. He hammed it up, of course, but it's nothing to be ashamed of.
People in the comments loved it, too. "Protect him at all costs," one person wrote. "Well done, hubby."
Another joked, "Now I see why you had his baby."
"Proof that soul mates exist," someone else said, and "Now that's a damn good spouse! Fam, take notes," shared another.
And, this support is the real deal, another person pointed out, writing, "The support is real that helps with mental health life."
In total, there are more than 12,000 comments, and it's clear that Patrick did good here. Not just for his wife, but for showing what support and normalization look like.
Well done, indeed.