Dad's Funny Viral TikTok "Confronting" Playground Teens Is Too Real
"Ok but why are they so scary?"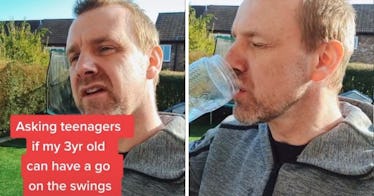 TikTok / bf42mcr
A dad's funny TikTok about confronting playground teens so his toddler can use the swings has gone viral for a situation many parents find themselves in, but is rarely talked about because, well, it's a little embarrassing. It's as funny as it is real, and the dad's funny take on it resonated with the thousands of people who left comments.
Ben Fewtrell is a comedian and father who loves to have a good laugh. On his TikTok account, he loves to share honest moments infused with humor. And his take on a playground day out with his toddler that resulted in a "confrontation" with teenagers has gone viral.
In the video, the text on the screen reads: "Asking teenagers if my 3yr old can have a go on the swings at the park." In the video, Ben pretends to be having a conversation with a group of teens at the playground. For some reason, teens love to converge at the playground, and as we all know, teens are very scary.
"Appreciate that," he says (with no volume) and gives a thumbs up before turning to take a sip of water. He can barely control the cup. It's shaking all over the place.
Why? Because confronting a group of teenagers is terrifying! They're mean, ruthless, have no self-esteem, and are great at insults. No, nothing bad is going to happen, the teens won't beat you up, and they'll probably do what you ask, but… they're chirpy, and they're not afraid to throw an insult our way. Also, some of us get a flashback to our teenage years where we weren't cool then either.
The comment section told us that our instincts on this being all too real were correct.
"Ok but why are they so scary?" one person asked in the comments, Adding, "'Cos I remember when I was a teen I was terrified of adults but now??"
"I told a group of teenagers to get off the toddler climbing frame and slides and they said OKAYYY KAREN," another person shared.
"I drove around for 5 hours today cus the parks were full and I didn't want to have to confront the teenagers," wrote another person who felt this video.
Maybe the age-old saying that "they're more afraid of us than we are of them" holds true here, too?