TikTok Of Dad Sneaking Quarantined Daughter Drinks Will Make Your Day
Very carefully place drink down, then run!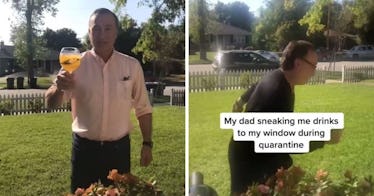 TikTok / emmahausler
Having to quarantine has been a reality for many people over this past year. It's not always easy to be isolated from those that you love. One dad has gone viral for doing what he can to keep his daughter's spirits up while she's in isolation by sneaking his quarantined daughter drinks, and it's adorable.
Emma Hausler has a dad who would clearly do anything to make her day a little brighter. According to her now-viral TikTok video, she was recently quarantined and isolated from the family. Although she didn't' have COVID-19 herself, she was "quarantining to be safe." While isolation is anything but fun, her dad gave her something to look forward to every day. And he did it in true dad fashion.
Posting a compilation video, Emma was visited by her dad several times during quarantine. He snuck to her yard and left a drink for her, something to let her know he was there for her. He even gave her a full bottle of wine once.
And her dad never broke the isolation rules. He wore a mask and left a drink on a chair outside her window. And he snuck away just as quickly as he appeared — even running, at times, in a hilarious fashion.
"A series of my father bringing me drinks to my window while I'm quarantined," Emma shared in the caption of the video posted at the end of February.
This article was originally published on