Dad Lets Daughter Do His Makeup, Starts Viral Trend
"Meet yo favorite artist future MUA."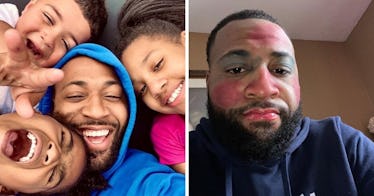 Instagram / bcube40
Some viral trends make us scratch our heads, wondering why it had caught the attention of so many people. Then other trends make complete sense, and we're thrilled to see it get so much love on social media. When it comes to parent or kid trends, there's almost nothing as pure as seeing how dads play with their kids. The latest – dads letting their daughters do their makeup.
According to Good Morning America, Brad Cubbie from Dayton, Ohio, sparked a viral trend after he gifted his two daughters, 10-year-old Khloe and 6-year-old Braleigh, a makeup kit for Christmas. Although he tells his girls that they don't need makeup, he wanted them to have something to play with, to spark some creativity. And that's exactly what happened.
GMA
This article was originally published on