Dad Imitates Daughter's Nightly Routine In Painfully Real Viral TikTok
This TikTok is too real to parents of big kids.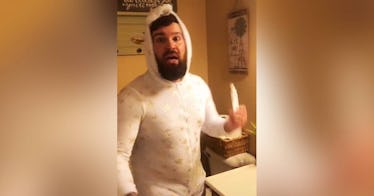 A viral video of a dad who decided to imitate his 8-year-old daughter in a now-viral TikTok TikTok video of her evening routine ist's painfully real and completely hilarious. The TikTok — though hard to watch (in a funny way) if you're the parent of a big kid — will at least help other parents realize that we're not alone in our struggles.
In a video posted to mom's TikTok, a dad played an evening in the life of his 8-year-old daughter. The video starts with the dad returning home from school. He kicks his shoes off, tosses his backpack, and bolts to the kitchen to get a snack. Typical!
Then the camera cuts to his bedroom, where dad is dancing in front of a mirror. His wife (and her mom) reminds him that it's time to do his homework, and his reply is typical big kid: "I'm doing TikTok, mom." Followed by checking in on him during bath time, reminding him not to use all the soap. As if he was a typical big kid, he proceeds to squirt the entire bottle of soap out into the bathwater and immediately experiences the pure panic of getting soap in the eyes. The unicorn onesies he then puts on after bath is hilariously spot-on.
Following bath time is supper, where instead of waiting for dinner, he's shoving dry cereal into his mouth by the handful. As predicted, he is then too full to eat the real dinner but asks for ice cream moments later.
The scene that dropped me to the floor in laughter is when it's time for dad to brush his teeth. Pretending to be his daughter, he yells at mom about the "spicy toothpaste." It's one of those parenting moments we experience and think that our kids are the only ones who complain about literally everything – like spicy toothpaste.
The video wrapped up with dad playing how impossible it feels to get our kids to settle into bed. The weird questions they have when they're supposed to be sleeping. And it's a real laugh-and-a-half. It's not surprising that it went viral on the platform with nearly 15 million plays.
Given the popularity of the first video where dad imitates daughter's routine, they made another one. This time, dad pretends to be his daughter during the morning routine. It's not only comedy and parenting gold, but these funny videos really help other parents feel like they're not the only ones dealing with strange and difficult kids.