Boy's Dramatic Monologue After Falling Into a Bush of Stinging Nettles Is Pure Poetry
"It's bad. It's bad. It's the baddest. It's worse. It's worse. It's getting worserer."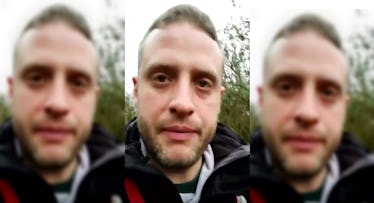 Twitter: William Andrews
German philosopher Friedrich Nietzsche once said, "To live is to suffer, to survive is to find some meaning in the suffering." Over the weekend, British comedian William Andrews found the deep truth in Nietzsche's statement when his four-year-old son fell into a bush of stinging nettles, and then channeled the terrible pain of falling into a brilliant poem examining the natural suffering of existence.
Andrews posted a video on his Twitter explaining that he was carrying his son back into the house after he had tumbled into some bushes. Along the way, his son began trying to put the agony he was experiencing into words. What came out was a work of art that subtly blended surreal imagery with a stream-of-consciousness narrative. To fully demonstrate the beauty of his son's post-fall dramatic monologue, Andrews delivered it in a style that almost resembled slam poetry:
"It's bad. It's bad. It's the baddest. It's worse. It's worse. It's getting worserer. It's worser than the tree, than that house, than the river, than the rain. It's getting worse. Ow. Ow. Ow. I may never stop saying, 'Ow.' Bring me to mommy. Get me to mommy. Get me the cream."
The young boy's words clearly resonated with people, as Andrews' video has been viewed over half a million times since yesterday. Several people even suggested that Andrews' son should be considered for England's next poet laureate, and that he might just be the right person to lead a poetry revival the world so desperately needs.