Survey Says Men With 'Dad Bods' Have Happier Marriages
The body that's defined fatherhood.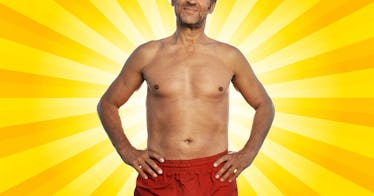 Ask any married person who has young kids, and they'll probably have a similar story – more times than not anyway. Man gets married, then gets married, and kids are on the way next. When we factor in all the added responsibilities of fatherhood added in with no sleep, less time, and it's the perfect recipe for a dad bod.
According to Google, the definition of a dad bod is "a male physique that is relatively slim but not lean or toned." And according to a new survey from Planet Fitness which gained insights from men with dad bods "whether they're lifting weights at the gym or lifting toddlers out of car seats," the body that defines fatherhood has a lot of benefits — at least for the romantic partners of dads.
According to a survey conducted by Kelton Global on behalf of Planet Fitness, the dad bod has been reigning supreme for five years, and it's just getting more popular. In 2017, the first study on the bodies of men found that 69 percent of women find dad bods attractive, with 64 percent of men who have a dad bod saying they're confident and comfortable with their body. Today, the study says 70 percent of women like the dad bod and 69 percent of dads like their physique.
Adding to that, the survey, which went out to 1,005 nationally representative Americans ages 18 and over, found that 65 percent of women and 50 percent of men find the body type "sexy." And having the physique has a positive impact on marriage, too, with 64 percent agreeing that men with dad bods "have happier marriages."
"Most women would prefer to be with a man with a dad bod over someone really muscular (59 percent)," the data states, "and nearly half of women (48 percent) and men (44 percent) would go as far as saying that dad bods are the new six-pack."
While it's wonderful that women, according to the survey, love the body type, men don't feel the same way when they're rocking it. "Half of all men with dad bods (50 percent) feel judged by others for their bodies," the survey showed, "a number that's jumped 10 percent since just last year alone."
All bodies are good bodies, whether you have a body bedecked with ultra-fit six-pack abs and hulking-traps or if you're just a regular dad with a regular body doing regular stuff all day long. And the VP of marketing at Planet Fitness agrees: "Fitness is all about being happy and healthy in your own skin, not worrying about what others might think… whether you're heading to the gym…or heading to the carpool pick-up lane."
And some fun research from our own team has found that dads actually become healthier when they become parents because they have a greater sense of the need to take care of themselves for their kids. So perhaps what women are loving is the confidence, and self-care, and active engagement with kids, that fatherhood brings.
And that's it, isn't it? Being fit isn't an aesthetic; it's a lifestyle that means that you can keep up with the kids, and be a present dad.
All that matters is that dads stay as healthy as they can while enjoying the full breadth of their lives with their kids.