Hilarious TikTok Shows Putting Babies to Bed Is Mission Impossible
Try to get a baby to sleep is a waking nightmare — according to this TikTok.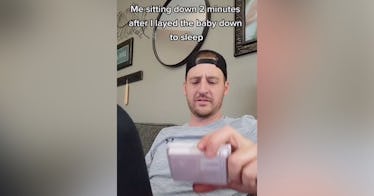 Every parent knows that trying to get a baby to go to bed is a waking nightmare, as babies love nothing more than doing literally anything other than actually falling asleep (including, but not limited to crying, screaming, screaming and crying, laughing, crying and laughing, and just sort of rolling around aimlessly in their crib). You can try every trick in the book but all of your futile efforts will prove meaningless if your kid simply does not want to go to sleep yet.
But sleep-deprived parents can always take some solace in knowing they aren't alone in the misery and laugh together in their shared struggle. One TikTok dad perfectly summarized the experience of trying to get a baby to fall asleep and his relatable video quickly went viral.
In the video, Aaron (better known on TikTok as thedad.father) has just settled in after finally getting his baby to go to sleep. He checks the baby monitor two minutes later only to discover that the baby (also played by Aaron) is wide awake and does a Seth Rogen chuckle while staring down the baby monitor camera.
The TikTok resonated with parents, as it has been viewed nearly a million times and received over 100,000 likes in less than a day. Several hundred parents also commented to say how much the video spoke to them.
"This one has me DYING as I watch my baby awake on the monitor," one fan wrote in a comment.