CVS Will Offer $15 Minimum Wage — But There's a Catch
In a bid to attract employees, CVS is going to offer a $15 minimum wage. It's a step in the right direction.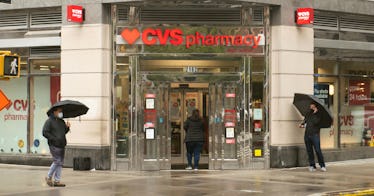 GETTY
As a means to compete with major big-box retailers like Target, Amazon, McDonald's, and Under Armour, as well as chain restaurants like Chipotle, companies that have begun to create a path to the middle class with some positions offering six figures, CVS Health announced that they'd be raising their wages.
But there's a catch: the raise won't take place until July 2022. CVS plans to give all CVS employees earning hourly wages a raise to $13/hour by September 5 — just a month from now — and at least $15/hour by 2022.
The pharmacy chain announced they'd be raising their minimum wage to $15 an hour in order to compete with other major employers, a raise that will affect about 35 percent of workers at CVS.
As major retailers struggle with staffing shortages that are engendered in no small part due to paltry wages that have historically been offered in an industry that employs more Americans than ever. For context, 71 percent of non-farm payroll employees work in the service industry; that amounts to some 108 million people as of August 2019, per the Pew Research Center.
Though those statistics have undoubtedly shifted due to the COVID-19 economy and recovery, there's no denying that service industry jobs are a massive employer of Americans, most of whom are adults with rent, mortgages, children, debt, and other adult responsibilities.
Though many politicians on Capitol Hill may debate about raising the minimum wage at length and say that the service industry is filled with teenagers who are using these jobs as their summer spending money, the reality is that the average age of a service industry employee is 38.3 years old. Raising the minimum wage is also associated with better health for kids, babies, and adults who work.
In other words, getting $15 an hour, a wage that is not even liveable in many cities across the United States but is still a far cry from the 7.25 federal minimum wage that hasn't been raised in over a decade, is a welcome step in the right direction.
So for people who are looking for jobs right now but holding out to find one where they can actually pay rent and buy groceries at the end of the month, CVS might not be the first place to look right now.
On the other hand, higher pay appears to be one of the only solutions to the so-called "labor shortage" being experienced right now. And at least major employers are listening and taking steps to ensure that those who work in their stores can have some kind of wage that is ticking towards the direction of the cost of living, which has skyrocketed in recent decades but not been matched by raised wages.