You Can Cut Your Own Christmas Tree From a National Forest for Just 5 Bucks
Build a new family tradition into this time of year — and help the forest, too!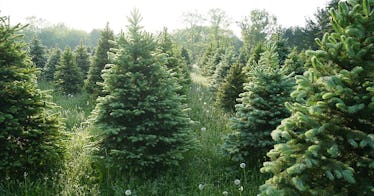 The holiday magic is in the air and as the days draw closer and our to-do list isn't getting much shorter, grabbing a Christmas tree shouldn't add to the stress. The USDA Forest Service is hoping to make this part of the holiday to-do's a little more convenient (if you're close to a national forest) and a lot more adventurous and festive. That's right: permits are now available for regular folks to be able to cut down a holiday tree from a national forest. And the permits are super affordable, too.
For the second season in a row, the USDA Forest Service is selling Christmas tree permits through its website. Doing it this way makes the process more convenient for visitors to find a tree from their favorite National Forest and pick up a permit to be able to cut that tree down and take it home to decorate.
"A memorable experience, cutting a holiday tree is a special tradition to share with family and friends while helping to maintain a healthy forest," the USDA Forest Service says on its website. "For many families, venturing into the forest to cut a Christmas tree for the holidays is a treasured tradition carried on for generations, while others may just be discovering the thrill of searching for the perfect holiday centerpiece."
Grabbing a permit is pretty simple, too. Instead of visiting the Forest Service office in person, people who wish to cut down their own tree can visit Recreation.gov. There, families can choose the park they want to visit where they'll also get a map of cutting areas and which trees are available.
"It is important to remember that visitors will need to print the permit and display it on the dash of their vehicle on the day of their visit to cut their trees," said Rick DeLappe, Recreation.gov Program Manager.
Many forests will also continue to sell permits in person or through their local vendors, but more than 90 percent of National Forests that offer Christmas Tree permits are available through Recreation.gov. The trees are very affordable, too, and families can grab a tree for as low as $5, but most cost $20 at most.
A bonus perk for cutting down a tree from a National Forest is that it's better for the health of the forest, too. "For every tree that is found, cut, and carried home as a holiday fixture, you're also contributing to the overall forest health," the USDA Forest Service website states. "Christmas tree permits are a unique opportunity for citizens to help thin densely populated stands of small-diameter trees – the perfect size for a Christmas tree."
For more information, visit Recreation.gov.