Crocodile Hunter Family Is Growing: Bindi Irwin Is Having a Baby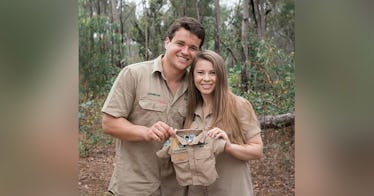 Crikey! Good news might be hard to come by these days, but it still exists, as we are reminded of when we heard the good news about Bindi Irwin, daughter of the late, great Steve Irwin and conservationist in her own right, and her husband, Chandler Powell. Bindi, 22, got married in March of this year to Chandler and now they're expecting their first baby! The couple announced the much-needed good news on Instagram on Tuesday, August 11, while also admitting that they were doing so a little bit on the earlier side.
The photo, which shows Bindi and Chandler holding up a baby-sized Wildlife Warrior uniform, the uniform of the conservation foundation inside the Australia Zoo that Bindi runs with her mom and brother in honor of their late father Steve, and smiling. Bindi wrote on the caption, "Chandler and I are proud to announce that we're expecting! It's an honour to share this special moment in our lives with you. Though I'm still in my first trimester, we really want you to be part of our journey from the beginning of this new life chapter," she said, seeming to acknowledge that most people wait until the first trimester has passed to share their pregnancy news. But the pregnancy is so exciting, who can blame her?
She continues: "We couldn't wait to share the news as this beautiful little being has become the most important part of our lives. Your support means the world to us. Please let us know your best advice and send good vibes & prayers to our little sweetheart."
While Irwin and Powell spend their days tending to all of the wildlife they care for at their sanctuary, few can forget the iconic way that Powell had to prove his commitment to dating her. In 2017, when they were still simply boyfriend and girlfriend, Powell showed his commitment to Bindi by undertaking a task that her late father, Steve, had said was a prerequisite for anyone dating his daughter. Speaking to Today Extra, Bindi said, "My dad was the most protective of anyone. He always said, 'Before Bindi is allowed to date, the guy has to cross our toughest crocodile pond.'" While he didn't swim across it, he did get right into the crocodile pond to wrangle some crocs, showing his fearlessness. It's been true love ever since for the happy couple. Congrats to them both!
This article was originally published on