Crayola Releases New Crayons That Feature Extensive Skin Tone Shades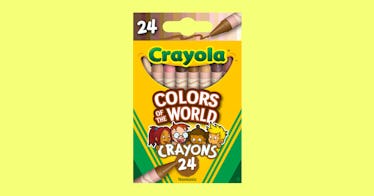 In honor of International Diversity Day, Crayola Crayons has released 24 new crayon colors that cover dozens of different skin tones of people around the world, plus eight new colors to represent even more shades of eye and hair color. According to Crayola, this marks the first time that so many colors have been released at once. The crayons, which were created with the help of Victor Casale, a former chief chemist at MAC cosmetics, a popular makeup brand, and a CEO of a new makeup brand. Hopefully, the expertise Casale brought to the project will help make the shades realistic and true to life.
Of course, one wonders why it took Crayola so long to release skin tones. The criticisms toward the crayon company for only having one skin-tone color called "Flesh" that was, you guessed it, just basically white-people-pink have long been leveled against the crayon company. To rectify that oversight, in 1992 Crayola introduced 8 crayon colors, ultra-clean washable markers, colored pencils, and washable paint. With 24 new colors, there are now 40 skin tone crayons.
At least they're making good on those criticisms by doing a Fenty-like launch of crayon that can help kids across the world color themselves the way they look, or at least, close to it. So that's nice!
You can pre-order these crayons at Walmart, right here.
This article was originally published on