Resurfaced Video of Craig Ferguson Refusing to Mock Britney Spears Goes Viral
The Y2K era was vicious towards America's pop stars and famous starlets, but one late night host refused to be a part of the pile-on of Britney, then a young mom.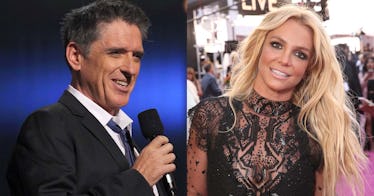 Getty
People are praising Craig Ferguson for being ahead of his time after a 2007 monologue resurfaced where he refused to make fun of the struggling pop star.
Framing Britney Spears, The New York Times documentary about the famous pop star and her conservatorship battle with her father, has caused many to reflect on the way the media and fans treated Spears during her very public struggles with fame, addiction, and mental health in the early aughts, and about the nature of her conservatorship in general, which many want to be revoked.
While Spears was clearly trying to simply keep her life together as it seemed to be falling apart, she became a national punchline and the constant subject of ridicule by media figures and television hosts, and even veteran reporters. But a monologue delivered by Craig Ferguson on The Late Late Show in 2007 has found new life online, as people are praising the former late-night host for the compassion he showed Spears at a time when most comedians, especially in late-night, were choosing to be cruel.
In the monologue, Fergurson compares the media's treatment of Spears to parents filming their kids falling for America's Funniest Home Videos. While the instinct may be to laugh, the host couldn't shake the feeling that we were all finding pleasure in watching someone else's pain. Ferguson then spoke about the constant and callous public ridicule of Anna Nicole Smith, who died earlier that year after being mocked for years due to her very public battles with addiction, telling the audience "it's not a joke."
Ferguson, who had long been open about his own struggles with alcoholism, said he ultimately felt "uncomfortable" making jokes at the expense of "vulnerable people." He admitted he was as guilty as anyone for making the jokes but said he realized that he needed to stop.
"This is totally a mea culpa; this is just for me," Ferguson said. "I think my aim's been off a bit, recently. I want to change it a bit. So tonight, no Britney Spears jokes."
Despite the clip being more than a decade old, it has gone viral, with people commending Ferguson for seeing the fragile state that Spears was in and choosing not to pile on for the sake of a cheap laugh. Unfortunately, he was won of a few — but as we all reflect on how we treated Spears, and in general, famous young women in the early aughts, maybe we could all consider kindness and empathy going forward rather than casual cruelty for laughs.
This article was originally published on