Here's How to Find COVID Vaccine Sites With Map Apps On Your Phone
Have a smartphone? Here's how to use it to find COVID-19 vaccine sites and appointments.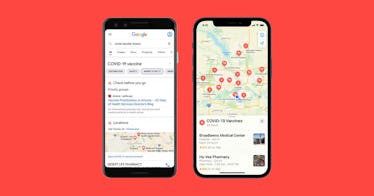 Are you eligible for a COVID-19 vaccine, but have no idea where on Earth you can possibly get one? Or, do you know where to find the vaccine, but you're struggling to make an appointment?
Well, luckily for you, if you have a smartphone that has map apps on it, you can now find pharmacies and vaccine sites by opening Apple Maps or Google Maps (or even Facebook, apparently!). The initiative by map providers and private companies has been long-rumored, and there are services using Apple, Google, and Facebook, to help you find vaccine appointments.
Here's how to use Apple Maps and Google Mapps to find vaccine sites whenever you're ready (and eligible!) to get your jab.
How to Use Google and Google Maps to Find COVID-19 Vaccine Sites
Google has long been using its maps app to provide relevant COVID-19 information, like rolling averages of new cases, and in January, announced they were working with authorities and pharmacies in order to provide vaccination sites for COVID-19.
On March 15th, Google said they would be utilizing Business Messages, a tool in Google Maps and on Google, to allow people to contact pharmacies local to them to ask them questions about eligibility, availability, and to book COVID-19 vaccine appointments.
Right now, Google is partnered with Albertsons Companies, a grocery store conglomerate that includes Safeway, Jewel-Osco, Vons, Albertsons, Acme, Shaw's, Tom Thumb, among others, per Google's announcement. These grocery stores all have pharmacies in them that can offer the COVID-19 vaccine. Walmart also uses Business Messages for general COVID-19 information.
How to Use Apple Maps to Find COVID-19 Vaccine Sites
On Tuesday, March 16th, Apple announced that their map application had been updated to include VaccineFinder. VaccineFinder is an application run by the good folks at Boston Children's hospital that provides not just 20,000 vaccine sites — with many more to come — but also vaccine availability and eligibility where you live. If you have Siri, you can simply ask her "Where can I get a COVID-19 vaccination?"
The map app, utilizing Vaccine Finder, will then populate with nearby COVID-19 vaccine locations alongside hours of operation, contact information for the vaccine providers, links to the website, and more data. Users can click on the website to look at availability and eligibility information as well.
This article was originally published on