Ditch These Two At-Home Tests If You Have Them, FDA Warns
The potentially faulty results may be putting people at risk.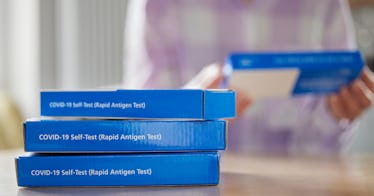 Daisy Daisy / Shutterstock
At-home tests for COVID-19 have been a key tool during the pandemic. As they become more widely used, the Food and Drug Administration (FDA) have issued a warning against two at-home COVID tests that could potentially give a false result. Here's what you need to know.
On Tuesday, January 11, 2022, the FDA issued a warning against using LuSys Laboratories Antigen Tests and LuSys Laboratories Antibody Tests. These two tests may also have been sold under the names EagleDx, Vivera Pharmaceuticals, or Luscient Diagnostics.
"The performance of these tests has not been adequately established and the FDA believes there is likely a high risk of false results when using these tests," the agency explained. "Neither test has been authorized, cleared, or approved by the FDA for distribution or use in the United States."
These two tests were distributed for both at-home use and in laboratories, the FDA believes. The LuSys Laboratories COVID-19 Antigen Test uses either a nasal swap or saliva sample to detect antigens, which are proteins from the SARS-CoV-2 virus which causes COVID-19. The LuSys Laboratories COVID-19 IgG/IgM Antibody test uses blood, plasma, or serum samples to look for the antibodies associated with Sars-CoV-2.
According to the FDA's warning, these tests have returned both false-positive and false-negative results. "False-negative antigen test results mean that the test says the person does not have COVID-19 but the person is actually infected," the agency explained. "False-positive antigen test results mean that the test says the person has COVID-19 but they are actually not infected."
If you used one of the two potentially faulty tests, the FDA recommends taking another COVID-19 test using a different brand, and any concerns should be directed to your health care team. Health care professionals are also being asked to contact and retest patients that may have received a result from one of these tests.
"The FDA regularly monitors the marketing of unauthorized, unapproved, or uncleared tests, including reports of problems with test performance or results," the agency said. "The FDA will keep the public informed if significant new information becomes available."
Anyone concerned about a potentially faulty test is encouraged to file a report through the FDA's MedWatch Voluntary Reporting Form.
This article was originally published on