Chart of Common COVID Symptoms Based on Vaccination Proves Vaccines Work
This chart shows just how well vaccines work at making COVID not miserable for you, if you get it.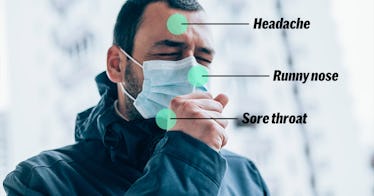 A new chart can help you sort out the common COVID symptoms based on if you're vaccinated or not, and it's helpful for two reasons: one, that it proves that being vaccinated is totally necessary because the symptoms are so much less brutal, and two, it helps you recognize COVID if you get it while vaccinated because some of the symptoms are different.
The chart isn't just full of valuable data and helps us sort through what we need to look out for, but it's further proof that you need to get vaccinated. Yes, you. Here's why.
According to Insider, the five most common COVID-19 symptoms vary based on if you've received one vaccination, two vaccinations, or none at all. The site looked at data from the COVID Symptom Study, a project that compiles and tracks self-reported symptoms of the coronavirus among more than one million people in the UK.
Using that info, they put together a chart that makes seeing the data simple: getting double vaccinated results in way less severe symptoms should you still catch the virus.
Vaccines are not 100 percent effective, but they're very close. Getting COVID is still possible even with being vaccinated. However, the rate of experiencing a breakthrough case is still low and even still, getting vaccinated reduces the risk of hospitalization or death by 25 times, according to Insider.
And that's what this chart shows, that even if you do get sick with COVID and have gotten your vaccinations, the course of the virus will be more likely to resemble a cold or the flu – you know, instead of having to be on life support in the hospital on the brink of death.
And that's what this easy-to-read chart shows. Looking at the data, those who have been fully vaccinated and have a breakthrough case of COVID will likely experience a sore throat, headache, runny nose, sneezing, and perhaps a loss of smell.
The symptoms are likely to be worse for unvaccinated people but with the added risk of a persistent cough. In addition, the cough has a real potential of developing into pneumonia, which can progress quickly into something severe.
"Delta appears to cause more severe illness than other variants," the site reports, "making vaccines all the more necessary to protect against hospitalization and death. The CDC recently estimated that unvaccinated people represented about 97% of COVID-19 hospitalizations in the US."
So … let this be another reminder, if you haven't already, to get the vaccine. You can check out the chart here.