College Kids Are Gambling With Their Lives at COVID Parties
People infected with coronavirus are knowingly being invited to large parties.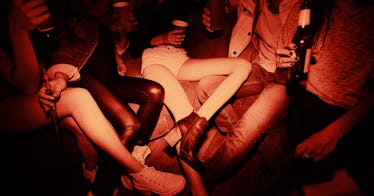 The pandemic hasn't been easy on anyone. There have been many sacrifices people have made to help slow the spread of the virus that is killing hundreds of thousands of Americans. Parents are juggling an impossible load of work and their kids; frontline workers are overextending themselves to keep people fed and looked after. Families have had to say goodbye to people they love without being able to gather for funerals, and yet there are people out there literally gambling with their lives and others.
According to ABC News, college students in Tuscaloosa, Alabama, have been having COVID parties where they invite people known to be infected with the coronavirus and then place bets on who comes down with the illness first.
"They put money in a pot, and they try to get COVID," Tuscaloosa City Councilor Sonya McKinstry told the news station. "Whoever gets COVID first gets the pot. It makes no sense. They're intentionally doing it."
Tuscaloosa Fire Chief Randy Smith spoke with ABC affiliate station WBMA and said at first the fire station was hearing rumors that COVID parties were happening, but they turned out to be true.
"We had seen over the last few weeks parties going on in the county, or throughout the city and county in several locations where students or kids would come in with known positives," Smith said. "We thought that was kind of a rumor at first…. we did some additional research…. not only did the doctor's offices help confirm it, but the state confirmed they also had the same information."
Authorities are now having to put attention and resources together to break up any further COVID parties they hear about, and it's a challenge.
"It's nonsense," McKinstry said. "But I think when you're dealing with the mind frame of people who are intentionally doing stuff like that, and they're spreading it intentionally, how can you truly fight something that people are constantly trying to promote?"
This isn't the first time COVID outbreaks have been linked to the college-age group. In March, near the beginning of the pandemic, authorities linked a spike of cases to students who attended a spring break trip to Mexico.
"Transmission of SARS-CoV-2 during and after a college spring break trip (March 14–19) led to 64 cases, including 60 among 183 vacation travelers, one among 13 household contacts, and three among 35 community contacts," the CDC reports.
According to ABC, as of July 1, 2020, "Alabama had recorded 38,422 COVID-19 cases, an increase of 10,696 in the last 14 days."