These 5 States Could Get Slammed By COVID Delta Variant, Experts Warn
Delta will hit the United States soon, but it will be "hyper-regionalized."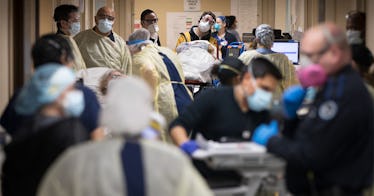 GETTY
As the Delta variant of COVID-19 makes its way through the United States, threatening to become the dominant strain of the virus that is more transmissible, and likely more dangerous, than others, some states are likely to be more overwhelmed than others. The reason why?
According to Dr. Scott Gottlieb, who spoke to CNN on Sunday, June 27, states with low rates of vaccination, and low rates of infection, will be slammed by the virus.
Communities that have low rates of vaccination are less protected against COVID-19. This is doubly true when those communities are also ones that had low rates of infection during the beginning of the pandemic. A double whammy takes place.
After all, natural immunity to COVID-19 has been a major player in the lower rates of infection alongside vaccine rates. But it doesn't last forever, and evidence has shown that the vaccines provide lasting immunity from COVID-19. Communities with neither of those important markers of COVID-19 immunity could see trouble down the line.
Which States Are at High Risk for Delta Outbreaks?
The five states that Dr. Gottlieb has major concerns about fit the bill of low vaccine rates and low infection rates. Those states are:
Alabama
Arkansas
Louisiana
Mississippi
Wyoming
Low Vaccination Rates are to Blame
Gottlieb also said that though the United States is enjoying a record low level of cases, in general, they will likely explode as they did in the UK as the Delta variant took over there in a month or so.
All five of those states have some of the lowest vaccine rates, per CNN, with less than 35 percent of the population vaccinated. Nationwide, 46.1 percent of the country has been fully vaccinated.
Speaking to CNN, Gottlieb said, "It's not going to be as pervasive," speaking about the next wave of outbreaks of COVID-19 due to the Delta variant. "It's going to be hyper-regionalized. There are certain pockets of the country where you're going to have very dense outbreaks."
The best path forward for all people is to get vaccinated as soon as possible, particularly if you are in a state, or a community, with extremely low rates of vaccination or low rates of infection during that first, terrible, long year of COVID-19.
So far, the data has shown both the Moderna and Pfizer vaccines are extremely effective at preventing illness from the Delta variant, whereas the data is still out on the Johnson & Johnson vaccine.
This article was originally published on