99.5 Percent of COVID Deaths in Last Six Months Were From Unvaccinated Cases
The vaccine is highly effective at preventing death. But what about the kids?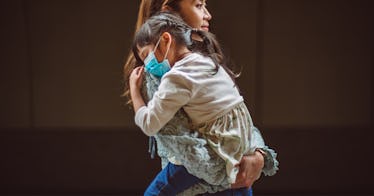 On Thursday, July 1st, CDC director Rochelle Walensky said that 99.5 percent of the COVID deaths within the past six months were from people who were unvaccinated. The data, compiled by the CDC from a number of states, found that since January, almost every death from COVID-19 has been from people who were unvaccinated.
Vaccines Prevent Death — But What About Kids?
"Any suffering or death from COVID-19 is tragic," Walensky said. "With vaccines available across the country, the suffering and loss we are now seeing is nearly entirely avoidable. COVID-19 [vaccines] are available and free for everyone aged 12 and up, and I encourage everyone who has not been vaccinated, especially those in vulnerable communities with low vaccine coverage, to roll up their sleeves and get vaccinated," she said at a press meeting.
No small matter of concern for parents is the fact that children are, by design, unable to be vaccinated at this time unless they are 12 or older. Though children make up a vanishingly small number of hospitalizations and deaths from COVID, they do not make up zero percent. Of confirmed child COVID cases, 0.00 to 0.03 percent ended in death.So while COVID-19 deaths in adults may be avoidable, for some children, they are not until they can be vaccinated. Although the vast majority of deaths in the last six months were of adults who could be vaccinated, until children can get their shot, not all deaths will be unavoidable.
Certain Communities Are At High Risk of the Delta Variant
Of particular concern for Walensky and Dr. Anthony Fauci are communities with low rates of vaccination. There are about 1,000 counties across the United States — largely in the South, East, and Midwest — where vaccination rates among eligible populations are around 30 percent.
For the past several weeks, health officials have been sounding the alarm on the Delta variant, which overwhelmed India a month or so ago, urging unvaccinated people and especially those in communities with low rates of vaccination to go get jabbed. The press briefing wasn't just about the efficacy of the vaccines — which are now available to everyone aged 12 and up and will, within a matter of months most likely, be available for younger children. It was also about the emerging threat of the Delta variant, which now represents about 25 percent of all COVID-19 cases in the United States, and is the predominant strain in a handful of states.
Should You Be Worried About Delta?
The Delta variant is not proven to be more deadly than other variants of COVID-19, but it is more transmissible and could overwhelm hospitals in regions where many people are unvaccinated due to the sheer number of cases. But for parents of kids, it will be good to know that the mutation does not seem to have changed the way COVID-19 impacts kids (which is, on the whole, not much).Evidence suggests that the COVID vaccines are effective against Delta, but vaccination rates have stalled across the country. Biden will indeed not meet his July 4 goal, with only 66
percent of people having had one dose of the vaccine nationwide. In those 1,000 counties of concern, far, far fewer people are protected against COVID-19. As a result, the White House is launching teams for certain areas that are at risk of being overwhelmed by COVID again. The teams will travel to low vaccination-rate communities and provide on-the-ground support. "These communities, primarily in the Southeast and Midwest, are our most vulnerable," Walensky said at the briefing.
This article was originally published on