COVID-19 By The Numbers: Quantifying Two Unbelievable Years
COVID-19 has changed the world. These numbers paint the picture.
by Fatherly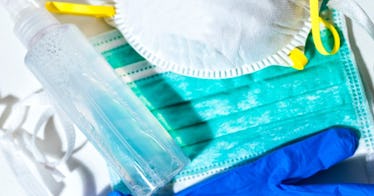 F.J. Jimenez / Getty Images
Today marks the second anniversary of the COVID-19 pandemic. Though COVID-19 had already begun to spread internationally by this day two years ago, it was March 11th, 2020, when the World Health Organization (WHO) officially declared COVID-19 a global pandemic. Practically overnight, workers fled their offices for what they thought might be a month, but ended up to be more like 24. Daycares and schools shut down. Flights were canceled, ports of entry closed. Two years later, the world is in a very different place than it was on March 11th, 2020. What happened in between is for the record books.
Birthdays were missed and babies were born in isolation. There were booms in sales of booze, flour, toys, puzzles, and at-home fitness equipment. There were shortages of yeast and toilet paper. Some people experienced little more than scratchy throats, others accrued headaches fatigue that never went away, still others recall horrifying stints plugged into ventilators. Countless others died. The human cost of the pandemic is difficult to quantify (experts estimating the global COVID-19 death toll to be three times higher than official records) but one thing is clear: It's toll was extraordinary. Researchers will still be unveiling new findings about the effects of the past two years for a long time to come, but the data we have on hand gives a glimpse of the enormity of these past two years for all of us.
Deaths. 964,057 Americans have died of COVID-19 since the pandemic began.
Infections. 79,355,645 people have been infected by the coronavirus.
Reinfections. In England, it's likely that more than 650,000 people have been infected by the virus twice. In New York, more than 198,000 people have been re-infected. Most reinfections have occurred since Omicron appeared.
COVID Tests Given. In total, the U.S. has given about 825 million COVID tests.
People Vaccinated. More than 216 million people in the United States have been fully vaccinated (two doses) against COVID-19. An additional 38 million people have had one dose.
Schools Closed. In March 2021, UNICEF reported that schools being attended by more than 168 million children had been shuttered for nearly a year. About 1 in 7 kids, or a total of 214 million children, had missed "more than three quarters of their in person learning." In Jan. 2022, more than 616 million students worldwide were still affected by full or partial school closures.
Daycares Closed. 16,000 child care providers shut down during COVID-19. Permanently.
GDP Lost. As of June of 2021, the COVID-19 global recession had led to a 7% global GDP loss — a massive wallop compared to what had been estimated in Oct. 2019 (a growth of 3.4% globally). The global COVID-19 recession was the worst since the end of World War II.
Masks Sold. As of the end of 2021, there were 747 million N95 masks in the U.S. national stockpile — to say nothing of the billions of cloth, surgical, and N95 masks sold to the public. In Jan. 2022, one manufacturer, for example, was making 2 million masks per day, or 80,000 masks per hour.
Birthdays Missed. An estimated 10 million kids missed their 5th birthday party (or celebrated it in a pandemic).
Babies Born. An estimated 7 million babies were born during the pandemic.
Flu Cases Sniffled Through. Between Sept. 2020 and the end of Jan. 2021, the CDC reported that 1,316 people had contracted the flu. During that same period in the year prior, the CDC had recorded nearly 130,000 cases.
Jobs Lost. In April 2020, the U.S. unemployment rate spiked to 14.8%, a level higher than had been seen since the 1930s. Unemployment remained an issue over much of the pandemic, but it has recently begun to recover. By late Jan. 2022, 4 states had completely recovered from pandemic job losses, and almost all states had recovered at least half of all jobs lost. Women have been more affected than men; they lost 5.4 million jobs compared to men, who lost 4.4 million.
Toys Bought. Toy sales spiked by 38% in May 2020 — just after the first round of $1,200 stimulus checks were sent out. That uphill trend didn't stop there. From 2020 to 2021, the dollar volume of sales of toys increased by some 12.7%.
Booze Drank. By the end of April 2020, online alcohol sales had increased by 477%, and that's no fluke. Online alcohol sales reached $6.1 billion total in 2021, compared to $2.6 billion in 2019.
Puzzles Solved. Europe's largest jigsaw puzzle manufacturer, Ravensburger, sold 32% more puzzles in 2020 than in the year prior, for a total of 28 million puzzles worldwide.
Flour Baked. In May 2020, a marketing director for Hometown Food Company said that market-wide demand for flour jumped by more than 160%. Baking-related product sales grew by 24% from 2020 over 2019. In just a month in 2021, King Arthur Baking Company sold 22 million pounds of flour. Now, the market is flooded with a different problem — rising prices. In Jan. 2022, prices for flour and prepared flour mixes were up 10.3% over the last year.
Toilet Paper Hoarded. On April 19, 2020, about half of all grocery stores in the U.S. were out of toilet paper for at least part of the day. It's estimated that because people were staying at home more often, they had to buy 40% more TP than usual.
Cleaning Supplies Bought. In March 2020, online sales of hand sanitizer and wipes increased by 5,678% compared to the previous year. Online sales of household cleaning products increased by 344%. Liquid hand soap increased by 170% and paper towel sales by 122%.
At-Home Fitness Equipment Banked On. Peloton and other connected fitness equipment programs won big in the early pandemic, with Peloton adding some $540,000 new memberships — mobile and bike users alike — per quarter from Sept. 2019 to Sept. 2020. Sales of the bikes and treads doubled during the pandemic…until they didn't. Now, other fitness equipment has flooded the market from the Mirror to Tonal to more…and companies have a lot of stock to sell.