COVID Exposure Rules Are Confusing. This Tool Can Help
Exposed to COVID-19 and not sure how to proceed? We have the tool for you.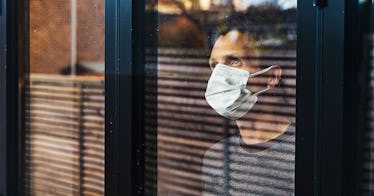 Justin Paget/Getty
If you or a family member have recently tested positive for COVID-19 in the past few days, know this: you are not alone. Rates of COVID-19 positivity are up across the country, and with COVID-19 positivity comes a higher chance of you being exposed to COVID-19 positive people. Omicron, the highly transmissible variant that has turned cloth masks into "little more than face decorations" per Dr. Leana Wen, is responsible for a large proportion of new cases and is currently rampaging across the country. But even without Omicron, knowing what to do when you are exposed can be confusing at best.
Part of the problem is, ironically, due to the fact so many of us are vaccinated. With so many vaccinated and boosted people being exposed to COVID-19 right now, and breakthrough cases on the rise, exposure rules have been thrown into confusion. There are just so many variables to deal with: How long should I isolate from others if I am asymptomatic, exposed, have a booster, but live with an unvaccinated three-year-old, am planning to visit the grandparents, and get back to work in the service industry? Good question — and one that isn't all that easy to answer, given the data on Omicron's impact is just now trickling in.
To add to things, the CDC just this week changed their isolation guidelines. According to the agency, "people with COVID-19 should isolate for 5 days and if they are asymptomatic or their symptoms are resolving (without fever for 24 hours), follow that by 5 days of wearing a mask when around others to minimize the risk of infecting people they encounter." The change came because researchers have found that the majority of Covid transmission occurs early in the course of illness, generally in the 1-2 days prior to onset of symptoms and the 2-3 days after.
Still confused? Luckily, the Springfield-Greene County Health Department in Missouri has released one of the more sensible and clear websites with the most up-to-date information, including the new CDC guidelines. They've even set up an easy online tool on Survey Monkey called the Quarantine & Isolation Guidance Questionnaire. If you've recently been exposed to COVID-19 or have tested positive for COVID-19, take the quiz here.
It asks whether or not you have tested positive for COVID-19, whether you've come into close contact with someone who has tested positive for COVID-19, what your vaccination status is with all possible options from unvaccinated to just one dose to boosted, and whether you're experiencing any symptoms. From there, the digital tool gives you the best and safest recommendation to move forward with, including recommendations on how to isolate, quarantine, and get tested.
The most important thing to note is that, if you test positive for COVID-19 right now, or if you are struggling to figure out what to do because you were exposed and you're boosted or not, you are not alone. Thankfully, easy-to-use tools like this one make the calculus of what choices you can, and should, make, a little bit easier to manage.
This article was originally published on