COVID-19 Cases Among Kids, Teens Surge by 84% This Past Week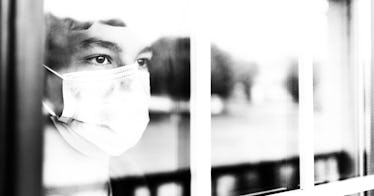 Unfortunately, the United States is in the midst of a massive surge of the Delta variant of COVID-19. And new data shows that COVID-19 positivity rates among children and teenagers, specifically, have skyrocketed some 84 percent across the United States over the past week.
New data from the American Academy of Pediatrics has found that in the week from July 22-29, 72,000 children and teenagers tested positive for COVID-19.
Of the over 600,000 deaths in the United States, children have amounted to just 1,000 of them, and are far, far less likely to be hospitalized or seriously ill than adults. Still, the jump in cases is a worrying trend, especially as the pandemic becomes a pandemic "of the unvaccinated," as some experts have referred to it.
In the week previous, there were 39,000 cases in kids and teens nationwide. Nearly a fifth of all newly reported cases in that last week was reported in children and teens, data that makes sense when you recognize that the vast majority of COVID-19 cases are coming from unvaccinated people, of which children are a major part.
After all, even though the United States did finally hit the mark of 70 percent of eligible Americans being fully vaccinated, there are still many millions of people who aren't eligible to be vaccinated against COVID-19. Those are kids under 12 years old. And of those kids who are 12 and up, vaccination rates aren't exactly stellar.
While kids 12 to 17 were authorized to receive the Pfizer vaccine in May of 2021, only 28 percent of kids between 12 and 15 have been fully vaccinated, marking the lowest coverage of vaccination of any age group.
And as school starts again soon across the country, in school building settings, parents only have a number of days for their vaccine-eligible kids to get their jabs so they can be fully immunized by the time they go sit in a classroom.
Ultimately, of course, there is the problem of kids 12 and under. There are a number of clinical trials being held by both Pfizer and Moderna of kids under 12 — but the vaccine for those age groups likely won't be approved for some time, and definitely not before schools reopen.
Some local governments and states have re-enacted mask mandates as Delta cases rise, but in 10 other states across the country, there are laws that prohibit school districts, for example, from enacting mask mandates, which would be key in keeping open schools much safer when they reopen in a matter of weeks.