Will the COVID-19 Pill Replace the Shots? Here's What To Know
The pill would be the first of its kind in treating COVID-19 at home.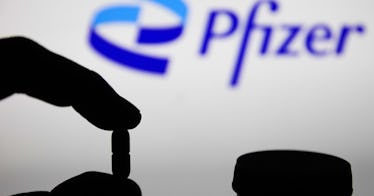 GETTY
An antiviral pill treatment for COVID-19 could be available for the public by the end of the year, Pfizer CEO Albert Bourla reports. The pill, an oral medication that is so far expected to be effective against COVID-19 variants, is currently being studied by the vaccine manufacturer and could lessen the severity and risk of getting COVID-19. It would also skip hospital trips and allow people to take the medication as soon as they know they are sick.
Here's what you need to know about why the pill would be a gamechanger in the fight against COVID-19, what studies are being done on it, and when you can expect to be able to purchase it.
Here's Why A COVID-19 Antiviral Pill Would Be a Gamechanger
Bourla said that the company is prioritizing working on an oral antiviral pill because it would stop people from having to go to the hospital if they get COVID-19 and it can be administered by people themselves. It works by stopping the COVID virus from replicating in cells, using protease inhibitors technology that is often used in fighting HIV and hepatitis C.
The antiviral treatment matters because, as the United States approaches herd immunity when it comes to COVID-19 vaccines, COVID-19 mutations still threaten to engulf any progress the world has made in inoculation. And, in fact, COVID-19 could very likely become an endemic virus to the world, antiviral treatments and therapeutic drugs could be key to keeping people out of the hospital and able to survive COVID-19.
And the drug is different from remdesivir — an expensive antiviral treatment touted as a miracle treatment by former President Trump during the pandemic — in that remdesivir is used only for people who are so ill they are hospitalized. The Pfizer pill would be for anyone at home, sick with the illness.
The Studies Of the Pill Are Underway
Two antivirals are currently being tested by Pfizer, in intravenous and oral dosages. While the intravenous one would be great, it would likely have to be administered to people who are under a doctor's supervision, whereas an oral pill would be given to those who can take it at home right when they are ill.
Would It Replace A COVID-19 Vaccine?
No, an anti-viral COVID-19 pill will not replace a COVID-19 vaccine, but it is yet another way to fight COVID-19. Vaccines will still be an important part of the fight against the virus.
In fact, COVID-19 vaccines will likely become annual inoculations, used to boost against endemic variants of the deadly virus that may just become a fact of our daily lives.
All of that being said, though these vaccines are extremely effective, breakthrough cases — the minuscule number of people who will still get symptomatic COVID despite being vaccinated — can happen, or people who can't get vaccinated (because the vaccine isn't approved for their age group or health conditions) — could be treated by this antiviral pill.
Ensuring that all people have access to COVID-19 treatment, no matter their vaccination status, will be helpful for keeping the spread of COVID-19 down, keeping breakthrough case numbers low, and avoiding hospitalizations, making the virus less deadly.
So When Can You Get the Pill?
Pfizer started running clinical trials of the drug in March of 2021, and if the trials are successful, they will apply for FDA authorization with the aim of having it available to the general public by the end of 2021.