The Senate Just Reached A $10 Billion Deal For COVID-19 Funding — But There's One Big Problem
Critical funding will help, but many Americans will be left behind (at least for now.)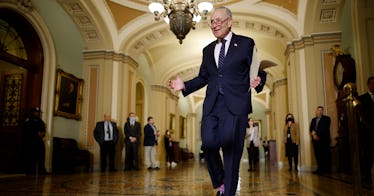 Chip Somodevilla/Getty Images
Though many aspects of normal life have returned thanks to the advent of highly effective COVID-19 vaccines, the pandemic is definitely still happening, and continues to impact our day-to-day lives. As new strains of the COVID-19 virus emerge, federal funding is still needed to keep an eye on COVID-19's forever-changing landscape, continue to research variants for future vaccines and fund treatments against the virus.
That's why it was so alarming when, in mid-March, the White House announced that it had run out of money to test, treat, and vaccinate people who don't have health insurance, to order more monoclonal antibodies, buy oral antiviral treatments, buy more vaccines, and research new generations of COVID-19 vaccines due to a failure to pass more funding in a government funding package in March.
The Senate Reached a Deal on $10 Billion for COVID-19 Funding
But the Senate just reached a deal for $10 billion in COVID-19 funding to replace some of that lost cash. It's a welcome relief, however, crucial money for essential support of Americans is still missing.
"This $10 billion COVID package will give the federal government — and our citizens — the tools we need to continue our economic recovery, keep schools open and keep American families safe," Senator Chuck Schumer said during his announcement of the deal.
The replacement funding will go towards the purchase of vaccines, including booster shots, and vaccines approved for children as well as testing for COVID-19. "At least $5 billion would be spent on purchasing therapeutics, such as oral antivirals," CNN reports.
Funding will also be directed to clinical trials, research, development of vaccines for any emerging variants. It may also be used to expand the manufacturing capacity for vaccines if needed.
"We urge Congress to move promptly on this $10 billion package because it can begin to fund the most immediate needs, as we currently run the risk of not having some critical tools like treatments and tests starting in May and June," White House spokeswoman Jen Psaki wrote in a statement Monday.
But It's Not Enough
The approval is good news, and it's a relief that a funding deal has been officially reached. However, the amount agreed upon is nowhere near what the White House initially said it needed to help fight the next phase of the pandemic — which was $22.5 billion.
"This obviously does not meet all of those dire needs in this country," Psaki added. The administration noted that full funding would be necessary to address global COVID-19 aid, which isn't able to happen with the amount that was approved.
Uninsured Families Are Still On the Hook
And, most pressingly for American families, with less than half of the funding approved, the deal will not be able to replenish the crucial program that pays for COVID-19 testing, treatment, and vaccinations for people who are uninsured. This has allowed every American to have access to critical care during the pandemic. In the meantime, parents will be on the hook for hundreds of dollars per PCR test or will have to order free, but limited, and less accurate, rapid tests from the White House website to their homes.
"The consequences of not getting COVID funding are really serious—scary, almost," Schumer said last week, "The rest of the world is racing to buy up the supply of these treatments and these therapeutics, and if the U.S. falls behind because of a lack of funding, vulnerable Americans, and our whole country, will pay the price."