Could You Get Recurring Stimulus Checks?
A group of Senators is calling on President Joe Biden to support recurring monthly stimulus payments to Americans.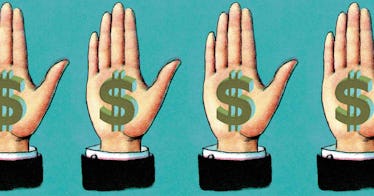 Even though the $1,400 stimulus checks that Biden promised in his not-yet-passed stimulus package are still not on their way to our wallets yet (watch out for March 14th), a number of Democratic senators are already putting pressure on the President to send more money to the American people. 10 senators wrote a letter to President Joe Biden asking for direct, monthly stimulus payments to Americans for the duration of the rest of the pandemic — a move they say would stimulate the economy, stabilize eviction, bill, and rent payments, and help Americans survive an unprecedented public health crisis and subsequent economic downturn.
What Did The Senators Ask For?
"We urge you to include recurring direct payments and automatic unemployment insurance extensions tied to economic conditions in your Build Back Better long-term economic plan. This crisis is far from over, and families deserve certainty that they can put food on the table and keep a roof over their heads. Families should not be at the mercy of constantly-shifting legislative timelines and ad hoc solutions," the senators wrote.
The reason the senators cite automatic unemployment insurance alongside direct stimulus payments is that the two forms of payments together have been proven to be very effective at helping Americans when combined. They cite a study from the Urban Institute that suggests that "a single direct payment of $1,200 combined with an extension of enhanced unemployment insurance and other assistance could keep 12 million people out of poverty, and adding a second direct payment could keep an additional 6.3 million people above the poverty line." After all, many people have been furloughed for certain workdays or had their hours or pay reduced while not qualifying for unemployment insurance, or have been forced to leave the workforce to caretake for family members (like millions of American moms have since early March.)
While the letter does not call for a specific cash amount (like $2,000, or $1,400, or $600 in monthly payments, monthly payments by the number of dependents, or even income limits to said-monthly payments) it does lean on hard data that found that increased unemployment insurance and the single-time stimulus checks helped American families survive the early months of the pandemic — and that when relief checks diminished, poverty levels rose again.
Will You Get Recurring Stimulus Checks?
Ah, maybe. Like many things, the measure has a ton of public support from voters, and probably not a lot of support from lawmakers themselves who purport to represent those voters. Also, with few specifics, it's hard to know would get paid based on income limits or the like.
"Polling shows 65 percent of Americans support recurring cash payments 'for the duration of the pandemic.' This includes support from 54 percent of Republicans and 60 percent of independents. Economists support the idea too," they added, pointing to 150 economists who wrote an open letter calling for recurring payments.
The letter, signed by Senators Ron Wyden, Elizabeth Warren, Alex Padilla, Bernie Sanders, Michael F. Bennet, Edward J. Markey, Cory A. Boker, Kirsten Gillibrand, Sherrod Brown, and Tammy Baldwin is a real who's-who of lefty Senate members. But it's also an important endorsement of the fact that a single $1,400 payment may help — but it won't do more than stop people from drowning. In order to facilitate a strong economic recovery, monthly payments and automatic unemployment insurance will help families survive partisan in-fighting and delayed bills — while also giving back to the economy.
But, if it does pass, it could be a game-changer for the rest of COVID-19.