Here Are the Updated COVID-19 Shopping Rules for Costco
Here's what you need to know.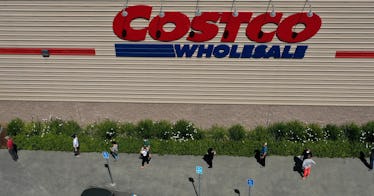 GETTY
Costco is making some changes to their operating rules to keep up with the Coronavirus pandemic social distancing guidelines. Some of the changes will represent a return to a sort of pre-COVID-19 normal (otherwise known as P.C.E.) and some will denote the brand new world that we're all living in, whether we like it or not.
Starting May 4, the majority of Costco locations and Costco gas stations will return to regular hours. But even though Costco will expand their operating hours, Costco will also require all customers and employees to wear face coverings and masks every time they come into their stores. While this requirement doesn't apply to kids under 2, or people who can't wear masks due to medical conditions, the vast majority of people who work and shop at Costco will be expected to comply.
Costco is also helping shoppers over 60 shop safely by providing 'senior hours.' Many Costco warehouses will be open for people over 60 or those with disabilities only from 9 a.m. to 10 a.m. every day from Monday to Friday. Costco is also limiting two shoppers per membership to enter the stores to limit crowding and encouraging members to still follow social distancing rules.
Healthcare workers and first responders will have priority access to Costco stores, and Costco will be allowing shoppers to use their own reusable bags so long as they pack them themselves. They're also not accepting returns on paper towels, toilet paper, sanitizing wipes, and rice, and will limit purchases on certain items to curb panic buying. The famous Costco food court will have a limited menu and the seating area will be closed. Costco's eyeglass, hearing aid, floral, and jewelry departments may not be open depending on Costco location.