Daughter's Heartwarming, Viral Tweets About Dad Looking for Work Are Quite the Ride
Jeff "is a very nice man who will work obnoxiously & is painfully helpful."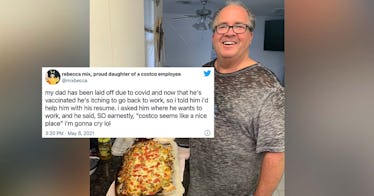 This past year has been a struggle for everyone. There have been a record number of people losing their jobs due to pandemic and the slowdown that came from it. And now, as things slowly start to open up thanks to vaccines, people who have been out of work for a while are excited to jump back in, which was the case for one dad. Thankfully he had the help of his daughter in his job search, and we get a heartwarming, viral story about it that was quite the ride. Here's what happened.
Last month, Rebecca Mix took to Twitter to share a story about her dad. "My dad has been laid off due to COVID, and now that he's vaccinated, he's itching to go back to work," she tweeted on May 6. "So I told him I'd help him with his resume. I asked him where he wants to work, and he said, SO earnestly, 'Costco seems like a nice place' I'm gonna cry."
And from there, a wholesome heartwarming tweet thread was born. Rebecca said her dad would also love to work at FedEx or UPS and shared that her dad "is a very nice man who will work obnoxiously & is painfully helpful." Rebecca then set out to update her dad's resume, signing him up for a new email address that's less "dad" and more eye-catching
"My boyfriend owns a cleaning company and stares at resumes all day, so he agreed to help me make my dad's Stand Out," Rebecca tweeted. "Together, our united team will get jeff a job at Costco. I am manifesting."
Rebecca then threw out her last-ditch effort on Twitter, sharing a photo of her adorable dad, hoping to get the attention of Costco. "costco [I know you're] not on Twitter, but if you see this, please don't let him down my dad is very nice. look at how proud he is."
Nearly two weeks later, Rebecca was back with an update on her dad's job search. On May 19, she shared a screenshot of a message she received from someone at Costco.
"Hi. My name [redacted] and I am a Manager at Costco located in [redacted] MI," the screenshot read. "Our CEO was made aware of your tweet regarding your Dad wanting to work for Costco, and it's made its way to my desk through various channels. I don't use Twitter, so that is why I am reaching out to you via Facebook. What is your Dad's name? Has he filled out an application on our website? That would be the first necessary step for a possible interview. I look forward to hearing from you regarding this."
Adorable, right? Well, on June 8, Rebecca had another update, this time a photo that said it all. Looks like her dad did land the job he always wanted. Rebecca shared a picture of his new Costco nametag with the simple caption: "GUYS."
"He's so excited. I love him, lmao Craig Jelinek if u see this, I have no idea how u found my tweets but congrats on hiring my dad he's the best thanks," she shared.
Congrats on your new job, dad and Rebecca, for taking us all on the wholesome ride.