Louisiana Just Voted To Keep Corporal Punishment In Schools Legal. They're Not Alone
Spanking and paddling our kids at school is still legal in far too many states.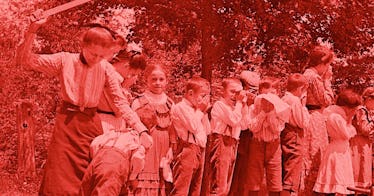 Getty
Most of us send our kids to school, assuming they'll be safe as they get an education. We are aware that things like bullying can happen. But it's never on our mind that the teacher could be the one responsible for hurting our kids. Well, apparently, Louisiana politicians want to allow teachers the option should they wish. The Louisiana House just killed a bill that would end corporal punishment in school, despite the fact that the evidence is clear that hitting children is bad for them. Here's what we know.
According to The Advocate, on May 4, 2021, the Louisiana House met and rejected House Bill 324, which would ban schools from using corporal punishment on their students – like spanking or paddling. The final count was five votes shy of the minimum required to approve the ban, ending at 48-49.
The bill was authored by Stephanie Hilferty, hoping it would pass to prohibit corporal punishment in both public elementary and secondary schools. Currently, the law gives school boards the discretion to use corporal punishment against students after adopting rules and implementations to control the use. According to The Advocate, 40 school systems in the state have banned corporal punishment, while 29 school systems allow its use.
State Rep. Larry Bagley is a former teacher who leads the opposition of the bill. According to him, enacting the ban would take the rights away from local school districts and sovereign school boards to decide for themselves. He noted that the rules in effect to make sure corporal punishment is done properly should be enough.
Yep, you know, rules for when adults can hit children… um, how about no?
"Corporal punishment is state-sponsored child abuse," Susan East Nelson, executive director of the Louisiana Partnership for Children and Families, testified at the hearing. She was one of a few supporters of the bill who described the use of corporal punishment as violent, egregious, and essentially legal child abuse.
According to The Daily Advertiser, "corporal punishment was ruled constitutional by the U.S. Supreme Court in 1977, leaving it to the states to make their rules. Punitive physical measures are still legal in 19 states."
The use of corporal punishment in schools has been steadily dropping since the 1970s. However, it's still used in some states today, including Louisiana. And data collected over the years has shown that physical punishment dished out at school is heavily biased.
According to the Society for Research in Child Development research findings in 2016, Black children in more than half of school districts in the southern states that still allow for corporal punishment are 51 percent more likely to receive corporal punishment than white kids. The data shows Black kids are more than 500 percent more likely to be paddled or spanked. Add that to the fact that it does not help children at all — and only harms them — and there are clear issues.
"Most American parents would not consider hitting their child with a board, yet that's legal for school personnel to do in these 19 states." Elizabeth Gershoff, a developmental psychologist at the University of Texas at Austin who led the research in 2016, said.
Kids should not be getting hit at school – full stop.
This article was originally published on