Trump Suspends Student Loan Payments, Waives Standardized Test Requirements
The moves come in response to widespread school closures and economic turmoil caused by COVID-19.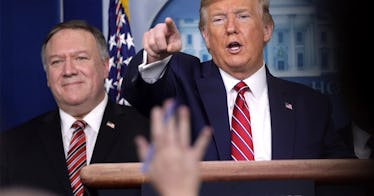 Getty
In a press conference held earlier today, President Trump announced sweeping changes to federal education policy that will affect everyone from elementary school students through college graduates.
With schools across the country closed in an effort to slow the spread of the coronavirus, Trump announced a suspension of federal standardized testing requirements for elementary, middle, and high schools during the current academic year. It's an acknowledgment that evaluating students, teachers, schools, and districts under such strange circumstances would be pretty pointless.
At the postsecondary level, big changes to federally backed student loans are also being implemented.
"Today, [Education] Secretary [Betsy] DeVos has directed federal lenders to allow borrowers to suspend their student loans and loan payments without penalty for at least the next 60 days, and if we need that, we will extend that," the president announced.
"Right now, everyone should be focused on staying safe and healthy, not worrying about their student loan balance growing. I commend President Trump for his quick action on this issue, and I hope it provides meaningful help and peace of mind to those in need," DeVos said in a statement.
Student loan holders wishing to take advantage of these changes need to apply for an administrative forbearance by contacting their loan servicer. All foreberances will be retroactive to March 13, making May 12 the expiration date (for now).
Of course, these measures fall well short of the student loan forgiveness many Democrats and those on the left are calling for. A bill introduced by Sens. Chuck Schumer, Patty Murray, Sherrod Brown, and Elizabeth Warren would authorize the Department of Education to forgive a minimum of $10,000 of federal student loan debt for all borrowers.
Sen. Bernie Sanders is calling for a waiver of all student loan payments for the duration of the emergency without specifying that it would only apply to federal loans. He's also made the long-term forgiveness of all student debt a centerpiece of his presidential platform.
This article was originally published on